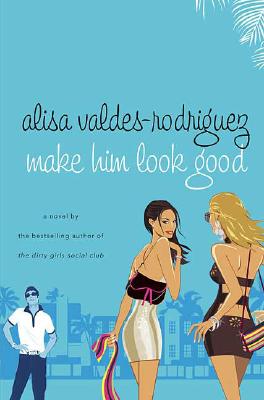 Make Him Look Good (Hardcover)
St. Martin's Press, 9780312349660, 384pp.
Publication Date: April 18, 2006
* Individual store prices may vary.
or
Not Currently Available for Direct Purchase
Description
The "him" in MAKE HIM LOOK GOOD is Ricky Biscayne, sexy Latin singing sensation who has taken the pop world by storm. The women who orbit him include:
--Milan, Ricky's new publicist, smart as a whip and chubby as only a girl who still lives at home with her parents can be
--Geneva, Milan's sister and as lean and chic as Milan is not; her Club G promises to be Miami's hottest opening ever
--Jasminka, Ricky's gorgeous Serbian model wife, who finally might eat a little something now that she's pregnant
--Irene, a firefighter whose high school romance with Ricky was the last love in her life, eking out an existence for herself and her daughter.
--Sophia, who is beginning to suspect that she and Ricky Biscayne look a little too much alike
--Jill Sanchez, an omniverous media-manic Latina star who has crossed over from CDs to perfume, clothes and movies
Set in and around Miami, with its vibrant music, club and modeling scenes, MAKE HIM LOOK GOOD is irresistible fiction.
About the Author
ALISA VALDES-RODRIGUEZ is an award-winning print and broadcast journalist and a former staff writer for both the "Los Angeles Times" and the" Boston Globe." She is the bestselling author of "The Dirty Girls Social Club" and "Playing with Boys."
Praise For Make Him Look Good…
"Ricky Biscayne is an international Latin pop star who plays to millions, but it's the interaction among six strong women and their byplay with Ricky that make this ...a dynamic book."--Romantic Times"Readers will snap this book off the shelves...Valdes-Rodriguez delivers the raunchy packed-with-attitude tale that her fans expect."--Booklist"As Helen Fielding fashioned chic lit with Bridget Jones' Diary, Valdes-Rodriguez does the same with chica lit."--New York Daily News"Start reading it, and it's hard to stop."--The Ohio Record Courier"An unabashed glitzfest."--Arizona Republic"Skillfully and lovingly illustrates the diversity of Latino culture."--Library Journal"Our refreshingly imperfect and insecure heroine, Milan, shines."--Publishers Weekly"The real fun comes from eating up all the oh-no-she-didn't parallels between the characters' exploits and real-life celeb misbehavior."--Entertainment Weekly"Chica lit reina Alisa Valdes-Rodriguez is back this month with her third book...about six mujeres and their adventures with one horny cantante named Ricky Biscayne."--Latina

Praise for The Dirty Girls Social Club:
"A compulsive beach read."
--Entertainment Weekly
"The feel of a night out with the girls."
--Miami Herald
"An incredible first novel."
--Library Journal

Praise for Playing With Boys:
"No translation is needed for…this funny…turf."
--People
"…an intoxicating read…"
--New York Post
"…fact-paced…"
--USA Today
Advertisement