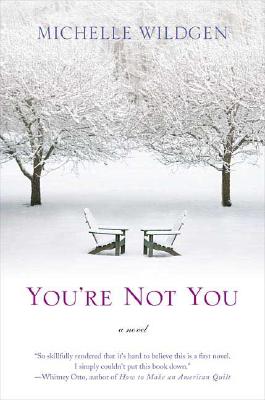 You're Not You (Hardcover)
Thomas Dunne Books, 9780312352295, 288pp.
Publication Date: May 30, 2006
Other Editions of This Title:
Paperback (7/24/2007)
Paperback (10/14/2014)
* Individual store prices may vary.
Description
College student Bec is dangerously adrift. Self-conscious and increasingly uncertain about her long-term plans, she's studying a major that no longer interests her and is caught up in a bewildering affair with a married professor. In an impulsive attempt to redeem herself, she answers a want ad seeking a caregiver.
What she finds is a wealthy, cultivated woman in her midthirties. Once an advertising executive, accomplished chef, and skilled decorator, Kate is now in the advanced stages of ALS (Lou Gehrig's disease). She and her husband, Evan, handle their situation with mordant humor, careful planning, and a lot of determination. Yet while Bec perceives the couple as charmingly frank and good-humored, strains exist beneath the surface.
Bec is soon a vital part of her employer's household, and their increasing closeness transforms both women's lives and their relationships. The more she acts on Kate's behalf, the further Bec strays from her stringent comfort zone. She performs every task, from the most administrative to the most intimate, and she translates Kate's speech for strangers, friends, and even family. Sometimes enthusiastically, sometimes reluctantly, Bec advances further and further into Kate's world, surprised by her own increasing dedication and ease. But how closely can Bec intertwine her own life with Kate's?
The two confront their obstacles unsentimentally, with dark humor and unflinching candor, as their relationship is slowly stripped of pretense. Honesty becomes their touchstone: They may find humor in the most devastating moments, but they won't pretend to believe in silver linings that don't exist. With crystal clarity, debut author Michelle Wildgen has crafted a deeply affecting novel about the singular relationship between two women, balancing humor and regret, sensuality and necessity, and testing the outer limits of friendship. Advance Praise for "You're Not You"
"Michelle Wildgen's novel" You Are Not You "is so skillfully rendered that it's hard to believe it is a first novel. The character of Bec, a twentysomething who has a habit of falling into things---jobs, love affairs---is funny, completely unsentimental, and really great for a reader to hang around with. Her worldview and how it changes when she goes to work for Kate, a refined woman in her thirties, is riveting. I simply couldn't put this book down."
---Whitney Otto, author of" How to Make an American Quilt"
"What an enjoyable and deeply satisfying novel. In" You're Not You, "Michelle Wildgen manages to capture, in some extraordinary way, what it's like to be a fairly ordinary college student, waiting for one's life to begin. Bec is a wonderfully complex heroine, and the nuances of her relations with the remarkable Kate are both vivid and suspenseful. This is an exhilarating debut."
---Margot Livesey, author of" Banishing Verona"
"With" You're Not You, "Michelle Wildgen has produced an artful and slyly seductive debut novel about a caregiver in full thrall to her charge's steely hold on sensuality, taste, and grace."
---Helen Schulman, author of" P.S."
"Michelle Wildgen writes with a lush, fierce clarity about the most private and complex of matters: the relationship between identity and intimacy, the body's pleasures and profound betrayals, the sharp impact of loss, and the gifts of deep attachment." You're Not You "is startling and smart, a wise, beautiful novel."
---Nancy Reisman, author of" The First Desire.
About the Author
Michelle Wildgen is a senior editor at the literary quarterly" Tin House." She earned an MFA in fiction from Sarah Lawrence and has received a scholarship to Bread Loaf and a residency at Hall Farm Center for Arts and Education in Vermont. Her work has appeared in venues including" Best New American Voices 2004, Best Food Writing 2004, StoryQuarterly, " and" TriQuarterly." The story on which this novel is based appeared in" Prairie Schooner, " where it won the 2004 Virginia Faulkner Award for Excellence in Writing.
or
Not Currently Available for Direct Purchase