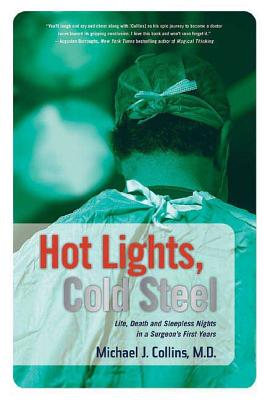 Hot Lights, Cold Steel (Paperback)
Life, Death and Sleepless Nights in a Surgeon's First Years
St. Martin's Griffin, 9780312352691, 320pp.
Publication Date: January 24, 2006
Other Editions of This Title:
Compact Disc (2/14/2017)
MP3 CD (2/14/2017)
* Individual store prices may vary.
Description
When Michael Collins decides to become a surgeon, he is totally unprepared for the chaotic life of a resident at a major hospital. A natural overachiever, Collins' success, in college and medical school led to a surgical residency at one of the most respected medical centers in the world, the famed Mayo Clinic. But compared to his fellow residents Collins feels inadequate and unprepared. All too soon, the euphoria of beginning his career as an orthopedic resident gives way to the feeling he is a counterfeit, an imposter who has infiltrated a society of brilliant surgeons.
This story of Collins' four-year surgical residency traces his rise from an eager but clueless first-year resident to accomplished Chief Resident in his final year. With unparalleled humor, he recounts the disparity between people's perceptions of a doctor's glamorous life and the real thing: a succession of run down cars that are towed to the junk yard, long weekends moonlighting at rural hospitals, a family that grows larger every year, and a laughable income.
Collins' good nature helps him over some of the rough spots but cannot spare him the harsh reality of a doctor's life. Every day he is confronted with decisions that will change people's lives-or end them-forever. A young boy's leg is mangled by a tractor: risk the boy's life to save his leg, or amputate immediately? A woman diagnosed with bone cancer injures her hip: go through a painful hip operation even though she has only months to live? Like a jolt to the system, he is faced with the reality of suffering and death as he struggles to reconcile his idealism and aspiration to heal with the recognition of his own limitations and imperfections.
Unflinching and deeply engaging, Hot Lights, Cold Steel is a humane and passionate reminder that doctors are people too. This is a gripping memoir, at times devastating, others triumphant, but always compulsively readable.
About the Author
Michael J. Collins, M.D., served as the Chief Resident in Orthopedic Surgery at the Mayo Clinic and is now a successful orthopedic surgeon. He is the author of the acclaimed medical memoirs Hot Lights, Cold Steel and Blue Collar, Blue Scrubs. He lives in Hinsdale, Illinois.
Praise For Hot Lights, Cold Steel: Life, Death and Sleepless Nights in a Surgeon's First Years…
"Like the very best episode of ER, Collins' memoir races from one trauma to the next, keeping this reader spellbound all the way. Collins' life as a surgical resident is heartbreaking one minute and triumphant the next. You'll laugh and cry and cheer along with him as his epic journey to become a doctor races toward its gripping conclusion. I love this book and won't soon forget it." —Augusten Burroughs, New York Times bestselling author of Dry and Magical Thinking
"One of the best, funniest medical memoirs I have ever read. Hot Lights, Cold Steel is at once darkly humorous and truly compassionate. Not since House of God has there been such a ferociously funny look at the world of hospital medicine." —Michael Palmer, New York Times bestselling author of Fatal and The Society
"I adore this book. It's so polished and hilarious. It brought back all the stomach-churning anxieties of my own residency so vividly that I felt exhausted reading it. Dr. Collins has my highest admiration. I give this book a 10+!" —Tess Gerritsen, New York Times bestselling author of The Surgeon and The Apprentice