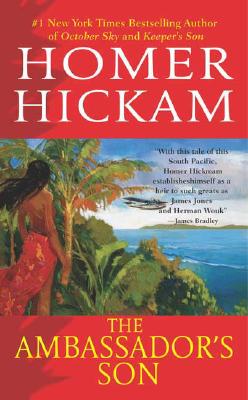 The Ambassador's Son (Mass Market Paperback)
St. Martin's Paperbacks, 9780312354367, 416pp.
Publication Date: May 2, 2006
* Individual store prices may vary.
or
Not Currently Available for Direct Purchase
Description
It is 1943, and the struggle against Japan rages across the steaming, jungle-choked Solomon Islands. As the fate of the South Pacific hangs precariously in the balance, Lieutenant David Armistead--a Marine Corps hero and cousin of President Franklin Roosevelt--is rumored to have deserted, perhaps to the enemy. For Coast Guard Commander Josh Thurlow, the news is particularly bad. He befriended Armistead while fighting by his side. Now he has orders straight from the top to bring him back or kill him in the attempt.
Pressed into the mission is an officer who couldn't be less like Josh: a shiftless PT boat skipper named John F. Kennedy. To find their elusive quarry, they and Josh's crew of misfits must face dangers as exotic as the lush battleground that surrounds them, including implacable Japanese, an Australian coastwatcher-turned-warlord, and a beautiful seductress who will either steal Josh's heart--or have his head...

About the Author
HOMER HICKAM is the author of the #1 "New York Times" bestseller "Rocket Boys," which was made into the acclaimed movie "October Sky." He is also the author of the bestselling "The Keeper's Son" and many other books, including "The Coalwood Way" and "Sky of Stone." He and his wife and cats share their time between homes in Huntsville, Alabama, and the U.S. Virgin Islands.
Praise For The Ambassador's Son…
"Superb...a tightly wrapped tale of wartime action."--Publishers Weekly

"World War II storytelling at its best with plenty of action, exotic surprises, and compelling romance."
--James Bradley, author of Flags of Our Fathers and Flyboys

"A beguiling South Seas romance, an epic story of love and loyalty, a richly evoked roman-a-clef about a larger-than-life American legend--The Ambassador's Son is all of this and more."
--James D. Hornfischer, author of The Last Stand of the Tin Can Sailors

"The Ambassador's Son is the reason I love to read...Homer Hickam is such a good writer that I'd probably read anything that he put out, but this adventure made me feel like a kid again."
--Rick Bragg, bestselling author of All Over But the Shoutin'

"Fear, courage, cynicism, lust and adrenaline propel this imaginary two-week episode in the young JFK's life...the story is so gripping, you will have to know what happens."
--Nigel Hamilton, author of JFK: Reckless Youth
Advertisement