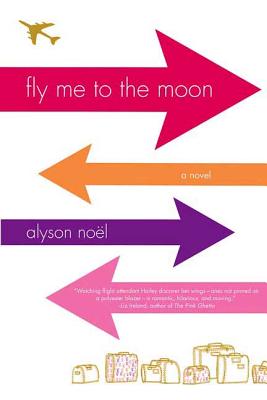 Fly Me to the Moon
A Novel
Paperback

* Individual store prices may vary.
Description
When flight attendant Hailey Lane learns the rest of her trip has been cancelled and she can fly straight home to spend her birthday with her boyfriend Michael, she's thrilled. Her early arrival will allow for some additional date night prep time, a definite bonus as she's convinced Michael is about to propose. But when she walks through the door, the surprise that awaits her is not at all what she expected. And as she grabs her bags and flees the scene one thing is clear-her entire future has just been rerouted. So Hailey does the only thing she can: she sets out on a worldwide trip to fix a broken heart. And thanks to free flight passes and long layovers in exotic locales, she finds herself with more options than she could have ever imagined...

From New York to Paris, from Puerto Rico to Greece, Alyson Noël's Fly Me to the Moon takes us on a trip filled with mojitos at every layover, outrageous passengers in every seat, and a cute guy at every gate, as Hailey tries to write her own happy ending.
Praise For Fly Me to the Moon: A Novel…
"Watching flight attendant Hailey discover her own wings--ones not pinned on a polyester blazer--is romantic, hilarious, and moving." —Liz Ireland, author of The Pink Ghetto

"Fly Me to the Moon is a sweet and funny adventure of love, friendship and finding one's way in the world. Chick-lit readers will love Hailey Lane's first class tale from 30,000 feet." —Jennifer Coburn, author of Tales from the Crib

"Fly Me to the Moon is a frequent-flyer gift to Chick Lit lovers everywhere. Part "Sex and the City," part Plane Insanity, part Portrait of the Artist as a Young Man, this sweet gravity-defying book is as bubbly and welcome as a glass of good champagne." —Lori Jakiela, author of Miss New York Has Everything
St. Martin's Griffin, 9780312355081, 336pp.
Publication Date: December 26, 2006
About the Author
Alyson Noël is the #1 New York Times bestselling, award-winning author of Faking 19, Art Geeks and Prom Queens, Laguna Cove, Fly Me to the Moon, Kiss & Blog, Saving Zoë, Cruel Summer, and the Immortals series including Evermore, Blue Moon, Shadowland, Dark Flame, and Night Star, as well as the Immortals spin-off series beginning with Radiance. With over 2 million copies in print in the US alone, her books have been published in 35 countries and have won awards including the National Reader's Choice Award, NYLA Book of Winter Award, NYPL Stuff for the Teenage, TeenReads Best Books of 2007, and Reviewer's Choice 2007 Top Ten, and have been chosen for the CBS Early Show's "Give the Gift of Reading" segment, and selected for Seventeen Magazine's "Hot List" and Beach Book Club Pick. She lives in Laguna Beach, California.