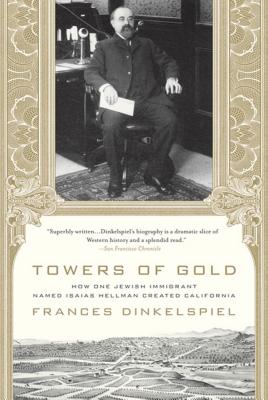 Towers of Gold
How One Jewish Immigrant Named Isaias Hellman Created California
Paperback

* Individual store prices may vary.
Description
Isaias Hellman, a Jewish immigrant, arrived in California in 1859 with very little money in his pocket and his brother Herman by his side. By the time he died, he had effectively transformed Los Angeles into the modern metropolis we see today.

In Frances Dinkelspiel's groundbreaking history, the early days of California are seen through the life of a man who started out as a simple store owner only to become California's premier money-man of the late 19th and early 20th century. Growing up as a young immigrant, Hellman quickly learned the use to which "capital" could be put, founding LA's Farmers and Merchants Bank, that city's first successful bank, and transforming Wells Fargo into one of the West's biggest financial institutions. He invested money with Henry Huntington to build trolley lines, lent Edward Doheney the funds that led him to discover California's huge oil reserves, and assisted Harrison Gary Otis in acquiring full ownership of the Los Angeles Times. Hellman led the building of Los Angeles' first synagogue, the Wilshire Boulevard Temple, helped start the University of Southern California and served as Regent of the University of California.

His influence, however, was not limited to Los Angeles. He controlled the California wine industry for almost twenty years and, after San Francisco's devastating 1906 earthquake and fire, calmed the financial markets there in order to help that great city rise from the ashes. With all of these accomplishments, Isaias Hellman almost single-handedly brought California into modernity.

Ripe with great historical events that filled the early days of California such as the Gold Rush and the San Francisco earthquake, Towers of Gold brings to life the transformation of California from a frontier society whose economy was driven by the barter of hides and exchange of gold dust into a vibrant state with the strongest economy in the nation.
Praise For Towers of Gold: How One Jewish Immigrant Named Isaias Hellman Created California…
"Visionary financier Isaias Hellman was the Warren Buffett and Alan Greenspan of early California rolled into one. He arrived in L.A. as a practically penniless, 16-year-old German Jew when there were only 300 other Europeans in town. Three decades later, he controlled much of the booming city's capital, land, and public works--then he acquired Wells Fargo Bank in San Francisco through a merger, earning headlines as the West's richest man. Hellman starred in so many aspects of the state's phoenixlike rise between the Civil War and the Depression that he became our Zelig, only with a really thick portfolio. The banker's bonds with the financial elite--fellow Jews like Meyer Lehman (his brotherin- law), gentiles like Collis Huntington--made skittish pioneer depositors in both cities less prone to panic. Still, this giant figure had been lost to history until local journalist Frances Dinkelspiel, Hellman's great-great-granddaughter (and the sister of this magazine's president), stumbled onto his papers at the California Historical Society. Eureka! Many underappreciated developments in California's astonishing adolescence--the emergence of SoCal, the UC system, post-1906 San Francisco, Hiram Johnson, Lake Tahoe, Southern Pacific Railroad, Hetch Hetchy, U.S. Zionism, you name it--are recovered here in elegantly restrained prose. A-" —San Francisco Magazine

"Impressively researched and engagingly told...Dinkelspiel does an excellent job of tracing Hellman's career as a financier, and sketches in a crisp portrait into the glittering San Francisco Jewish community into which he and his family ultimately settled. [A] compelling account of Hellman the giant of finance." —The Los Angeles Times

"Carefully researched and superbly written memoir...Dinkelspiel's biography not only brings to life the transformation of California into the state with the strongest economy in the nation, and the outside personalities that forged it, but rescues from the proverbial dustbin of history the remarkable life and achievements of a man whose energy, creativity, resourcefulness and love for his adopted country had been all but forgotten. A marvelous resource, a dramatic slice of Western history and a splendid read." —The San Francisco Chronicle

"Journalist Dinkelspiel has filled a notable gap in California's history by writing a much-needed biography of her remarkable great-great grandfather Isaias Wolf Hellman (1842-1920). As one of California's pioneer financiers and an advocate of modern banking methods, Hellman became founder, president, or director of 17 banks, including Wells Fargo Bank, Nevada Bank of San Francisco, and the Farmers and Merchants Bank. He is attributed with stabilizing the financial panic of 1893 in Los Angeles by stacking $500,000 worth of gold coins on the counter of the Farmers and Merchants Bank in plain public view, hence the title of this book. The author personalizes Hellman's life by recounting his emigration from Bavaria to California in 1859 and comparing the vastly different social acceptance of Jews in those places. Many details of his family history are provided, along with insights into his relations with a broad swath of other early legendary California business families. Recommended for public and academic libraries with interests in early California financial and Judaic history." —Library Journal

"Towers of Gold is a vivid portrait of the financier who changed California forever. Attempted stagecoach robberies, an assassination attempt, bank runs, the 1906 earthquake -- it's all here in Frances Dinkelspiel's meticulously researched and masterly crafted biography. After reading Towers of Gold, you'll never see downtown Los Angeles of San Francisco's financial district in quite the same way again." —Julia Flynn Siler, author of the New York Times bestseller, The House of Mondavi
St. Martin's Griffin, 9780312355272, 400pp.
Publication Date: January 5, 2010
About the Author
FRANCES DINKELSPIEL is an award-winning journalist and the author of Towers of Gold: How One Jewish Immigrant Named Isaias Hellman Created California. Towers of Gold was a San Francisco Chronicle bestseller and named a Best Book of the Year by the Chronicle and the Northern California Independent Booksellers Association. She is the co-founder of the news site Berkeleyside and her work has appeared in The New York Times, Wall Street Journal, Los Angeles Times, People, San Francisco Magazine, and other venues. She lives in Berkeley, California.