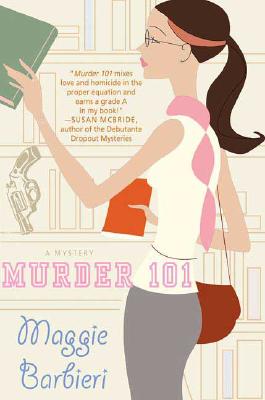 Murder 101 (Hardcover)
Minotaur Books, 9780312355371, 288pp.
Publication Date: October 31, 2006
* Individual store prices may vary.
or
Not Currently Available for Direct Purchase
Description
Safely away from the chaos of Manhattan, St. Thomas, a small college on the banks of the Hudson River in the Bronx, is supposed to be tranquil, bucolic, and serene. Unfortunately, English professor Alison Bergeron has found it to be anything but. Recently divorced from a fellow professor and even more recently without a car---it was stolen---she has been hoofing it to school. One Friday evening, two NYPD homicide detectives drop by her office. The good news is that they found her beat-up Volvo; the bad news is that the body of one of the students in her Shakespeare seminar was in the trunk.
Not only are Alison's chances of getting the car back bleak, but suddenly she's the primary suspect on a list that includes, among others, the murdered student's drug-dealing boyfriend, Vince, and the girl's father's business rivals (he's head of an old Italian family . . .).
Accused of a crime that she didn't commit, Alison enlists her best friend, Max's, emotional support and services as an amateur sleuth. Their fumbling efforts to clear Alison's name could land her in even hotter water with Detective Bobby Crawford, the handsome investigating officer (and former altar boy)---not to mention the nuns at St. Thomas. . . .
Maggie Barbieri's charming professor and down-to-earth detective make an unlikely but lovable team in her delightful debut mystery.
About the Author
Maggie Barbieri is a freelance textbook editor as well as a mystery novelist. Her father was a member of the New York Police Department, and his stories provide much of the background for her mysteries. She lives in Westchester County, New York.
Praise For Murder 101…
"Maggie Barbieri's debut, Murder 101, offers traditional mystery lovers a real treat in her heroine Alison Bergeron, a recently divorced, clog-wearing college professor . . . the perfect antidote to the oh-so-hip chick-lit protagonist. Oblivious to fashion, Ali's more concerned with keeping her nervous stomach in check when one of her students turns up dead . . . and a hot cop eyes her as the prime suspect. Murder 101 mixes love and homicide in the proper equation and earns a grade A in my book!"
---Susan McBride, author of the Debutante Dropout Mysteries
"If you love Agatha Christie, Sue Grafton, and Sara Paretsky, you'll be delighted by Murder 101. It sucked me in, kept me wondering, and made me smile. Maggie Barbieri's mystery, set at a small Catholic college, will resonate with anyone who went to parochial schools or lived in ethnic Catholic neighborhoods. I can't wait for the next in her series!"
---Sheila Curran, author of Diana Lively Is Falling Down
Advertisement