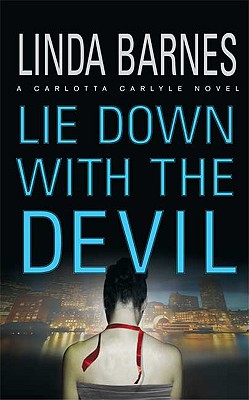 Lie Down with the Devil (Mass Market Paperback)
Minotaur Books, 9780312356453, 320pp.
Publication Date: August 4, 2009
* Individual store prices may vary.
Description
Boston P.I. Carlotta Carlyle wants to know what her on-again, off-again boyfriend Sam Gianelli did to earn himself the secret indictment for murder that's keeping him out of the country. A man with plenty of secrets, Sam won't tell her anything, much less let her help--and she isn't having any more luck getting info from her old friends at the Boston PD. Sam's exile could have something to do with his mob connections, but it can't be that simple. Nothing involving Sam ever is.
Finding no easy answers, Carlotta goes back to basics and takes a job working for a jittery bride-to-be who wants to make sure her fiance is being faithful. The case is simple enough--at first. But Carlotta catches the kind of break she wished she hadn't when her client ends up getting killed. Now, as she's hunting a down a murderer, she can't help but wonder whether love itself isn't the ultimate dead end...
About the Author
LINDA BARNES is the author of twelve Carlotta Carlyle mysteries, winner of the Anthony and American Mystery Awards, and Edgar Award finalist. She lives in the Boston area with her husband and son.
Praise For Lie Down with the Devil…
"One of the best private-eye series ever."—Harlan Coben
"Utterly compelling.…just sit back and enjoy the ride."—Publishers Weekly (Starred Review)
"Carlotta Carlyle [is] still one of the standards against which…female PIs measure themselves."—Baltimore Sun
or
Not Currently Available for Direct Purchase