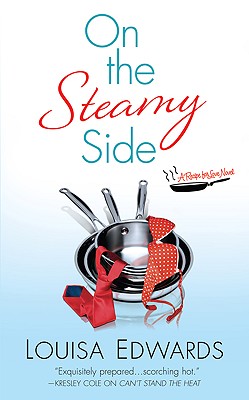 On the Steamy Side (Mass Market Paperbound)
A Recipe for Love Novel
St. Martin's Press, 9780312356460, 321pp.
Publication Date: March 2, 2010
* Individual store prices may vary.
Description
When Lilah Jane Tunkle fled her dull life in Virginia for the bright lights of New York City, she didn't expect to wind up a nanny to a gorgeous celebrity chef's ten-year-old son. Working for the delectable Devon Sparks is a sure-fire recipe for disaster, especially after Lilah gets a tantalizing taste of his perfectly seasoned kisses
Devon's not sure he can handle one more surprise ingredient in his life he quit his popular TV show, his culinary reputation is on the line, and now the son he barely knows is back for seconds. Lilah's Southern sass is supposed to keep the boy in line, but soon enough she's teaching Devon a thing or two about homespun food and turning up the heat.
About the Author
Louisa Edwards is the author of "Can't Stand the Heat" and" Just One Taste." She grew up in Virginia, where at the age of 11, she was already sneaking Harlequin romances from her grandmother's suitcase, much to her parents' horror. She graduated from Bryn Mawr College before moving to Manhattan to work in book publishing a dream job that allowed her to earn a living by reading romance novels. She later moved to Ohio, where she worked as a restaurant reviewer. The Recipe for Love series combines her love of food and romance. When she's not writing, Louisa eats at as many wonderful restaurants as possible purely for research, of course."
Praise For On the Steamy Side: A Recipe for Love Novel…
Praise for ON THE STEAMY SIDE
"Edwards cooks up the perfect combination of compelling characters and an intriguing plot that delivers a marvelous confection of irresistible details about the fascinating world inside the kitchen of a gourmet restaurant."—Booklist (Starred Review)
"On the Steamy Side is an instant re-read, a fresh, emotions-first take on the food-infused romance and, quite simply, a stellar example of the health and vibrancy of the American contemporary romance.  I'm betting it ends up on any number of Best of 2010 lists." -- Michelle Buonfiglio, Barnes & Noble's Heart to Heart
"A delight from cover to cover…My favorite aspect is how skillfully Ms. Edwards weaves emotional subjects throughout the novel…On the Steamy Side is much more than a sexy romance. It [has] depth and humanity. This series is headed for my keeper shelves. " –A Romance Review
"The snappy, fun loving dialogue and overall comradery with this cast of character makes for great reading." –Babbling About Books
"Steam up your reading with On The Steamy Side by mega-talented Louisa Edwards."—SingleTitles.com
"Fast paced and scintillating…Boiling and searing love scenes aside, the complex relationships and self-discovery shared with the unique backdrop of the cut-throat and competitive culinary arts forces the reader to consume page after page as voraciously as the chefs can dish it up."  --Romance Readers Choice 

"Louisa Edwards' fast-paced, sparkling On The Steamy Side has sizzling sex scenes, complicated relationships, and unique settings, with an undercurrent of humor." –Long and Short Reviews
"If you need a real feel-good, make your heart sing, and your body tingle kind of afternoon this is the perfect recipe for success" –Coffee Time Romance
Praise for CAN'T STAND THE HEAT
"Exceptional culinary detail and page-singeing sexual chemistry combine with a fascinating group of characters to produce a sophisticated modern romance that ties into the current foodie craze. This debut—first in a projected "Recipe for Love" series—will win over most contemporary romance fans.—Library Journal
"The simmering chemistry comes to a boil in this deliciously sensual and delightfully amusing debut."  --Orlando Sentinel
"When I tried to figure out why I liked the book so much, two things came to mind. One, when it was over I didn't really feel like I had read a book; I felt as if I'd been a part of the story. That's very difficult to achieve.  Two, I realized what Edwards' style reminded me of…Several times reading this one I thought to myself, 'This woman could be the next Susan Elizabeth Phillips.' And I don't write that lightly." –ColumbusDispatch.com
"This playful culinary confection is a lighthearted and entertaining romance that will delight readers. With all the behind the scenes revelations, you'll never look at cooking and meal preparation in the same way again. Steamy and satisfying fare, indeed" –Fresh Fiction
"From start to finish, I devoured and enjoyed every moment of this book. Miranda and Adam worked well together like…honey and cayenne pepper…a little sweet and a little spicy with an end result to make you say "Wow"." –Cheryl's Book Nook
"I LOVED Can't Stand The Heat . Louisa Edwards has written a great debut novel, and I look forward to reading more of the Recipe for Love series." –Beautiful Reads
"The strength of this novel is substantial…. The writing, the other characters, the setting, the nuances, and the imagery are marvelous….Food and its various meanings and permutations are a fluid and discernible part of the writing in this book. It includes themes of home, heart, family, and nourishment, what people need to survive, and how the food we eat can communicate more than words can provide." –Smart Bitches Who Love Trashy Novels
"A deliciously fun read. The plot and eccentric characters are well written, and the kitchen sizzles with hot passion." –Romance Reviews Today
"Sophisticated, romantic, mouth watering and sizzling hot." –The Three Tomatoes Book Reviews
"Can't Stand the Heat is a delightful blend of chemistry, competition, and cooking, and it was just what I was looking for. I loved the fast-paced scenes that make you feel the controlled chaos of a restaurant during dinner hour, as well as the slower-paced scenes such as Adam teaching Miranda how to cook…I'm am eagerly awaiting Edwards' next release in the series. Here's hoping it's as good a read as this terrific debut." –All About Romance
"Snappy, exciting, adventurous, and totally unexpected. Can't Stand the Heat... is one of the best light-hearted culinary, romantic novels this reviewer has read in a very long time! Grand job, Louisa Edwards." –Crystal Reviews
"Can't Stand the Heat is the first novel in her "Recipe for Love" series, and what a start it is. All of the characters are portrayed in such a revealing light that you will remember them for quite some time. I love the sensuality as well as the conflict. I have become a fan of this author and cannot wait to read more in her series, along with any other works she comes out with!" –Coffee Time Romance (5 Stars)
"Make sure that you have a good lazy day to spend with Can't Stand The Heat, and don't start reading this one in the evening, or I guarantee you will be up all night!"  --The Romance Reader   
"The author blends love and recipes into a fun romp…Fans will enjoy the pizzazz and flavor that Louisa Edwards brings to her warm tale." –Genre Go Round Reviews
"A funny, lovable story about two unlikely people falling for each other. The plot, characters, and setting comes together to form a wonderful, light-hearted, culinary romance that is a blast to read and I can't wait for the next "Recipe for Love" novel!" –The Book Lush
"Delish! Creative debut author Louisa Edwards will have you eating out of her hand as you read her witty, insightful, foodie romance… Can't Stand the Heat is filled with steamy passion, realistically described settings, a distinctive plot and characters that beg for their own stories.  Watch for more to come from this talented new author."  --SingleTitles.com
"Mmmm... Louisa Edwards' debut effort--Can't Stand the Heat--is yummy!! The witty repartee between Miranda and Adam, the snappy dialog between Adam and his staff, make this a fun, sizzling, read… And all the food talk in between these covers? Make sure you're not reading while hungry." –Drey's Library
"The main characters to felt like friends and the secondary romance involving Miranda's brother helped keep things moving. One of the best parts was discovering an excerpt
of Edwards's next book featuring a minor character from this one--giving me another book to look forward to…Can't Stand the Heat? I say, get into this kitchen!"  -- PublishersWeekly.com
"Louisa Edwards has cooked up a sassy and sexy contemporary romance. With the popularity of the Food Network so high these days, this novel has arrived just in time to delight foodies and readers both. The food descriptions alone in this book are enough to set your mouth watering…I predict a delicious future for this new writer" –Review Journal
"Ms. Louisa Edwards is definitely an author to watch!  Her descriptions make you feel like you can almost smell the food Adam's cooking!  CAN'T STAND THE HEAT has what it takes to affect all of your emotions--joy, sorrow, fear, hate, and love." –The Romance Readers Connection
" An exquisitely prepared romance seasoned with scorching hot love scenes, Can't Stand the Heat is truly an unforgettable dish. You can't miss this delectable and mouthwatering debut!" –New York Times bestsellilng author Kresley Cole
"Smokin' hot chefs, sizzling passion, and a big dash of charm--no reservations required for this smart, stylish romance!"---New York Times bestselling author Gena Showalter
"Can't Stand the Heat is HOT in the kitchen and everywhere else!" – New York Times bestselling author Carly Phillips
or
Not Currently Available for Direct Purchase