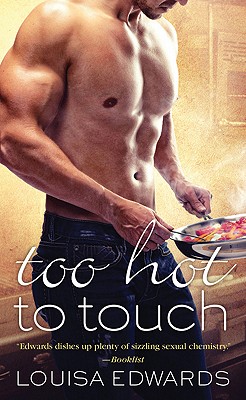 Too Hot to Touch
Mass Market Paperbound

* Individual store prices may vary.
Description
When it comes to competitive cooking, Max Lunden is no stranger to winning...though he's never been great at working with a team. A master chef-and major hunk-he's traveled the world, picking up new cooking techniques as well as beautiful women. But when the prodigal chef returns home to his family's Greenwich Village restaurant, he discovers one too many cooks in the kitchen-and she's every bit as passionate as he is...
Juliet Cavanaugh used to have a crush on Max when she was just a teenager, hanging out at Lunden & Sons Tavern, hoping to catch a glimpse of the owner's oldest, and hottest, son. Now a chef herself-competing in the biggest culinary contest in the country-Juliet will be cooking side by side with the one man she's always admired...and desired. But despite their simmering attraction, Juliet is determined to keep her cool-no matter how hot it gets...
Praise For Too Hot to Touch…
Red-Hot Raves for Lousia Edward's Recipe for Love series
TOO HOT TO TOUCH
"Too Hot to Touch
 is a satisfying, emotional and touching read." –
Read, React, Review
"I can see that this series is going to be another keeper on my shelves. A great start to this new foodie series, it makes me want to learn to cook...almost." –Smitten with Reading
"Edwards always amazes me with her descriptions in the kitchen and food.  Be sure to read this book on a full stomach, or else the hunger pains might get ya!" –The Book Pushers
"Jules and Max scorch the pages…very well written characters with flaws, issues and depth." –Badass Book Reviews
"I loved this book. It was funny, sexy, the love story was touching, and the characters were likeable. As a fan of contemporary romance, this is exactly what I'm looking for when I buy a book. I can't wait to read the next installment. This one is a keeper so don't waste more time and go get it!" –Romance Around The Corner
"If you like food, televised food shows (especially the popular Bravo series "Top Chef") and books with happy endings, you're in for a treat." –Go San Angelo Standard Times
"Scorching romance and delicious passions ignite behind the scenes of a high-stakes culinary competition. Today's hottest chefs vie for fame, fortune . . . and each other's hearts." –Fresh Fiction
"Yowza! There's nothing like romance in the kitchen to get juices pumping and hearts pounding, especially when the writing sizzles like it does in Edwards' latest." –All About Romance
"Every woman who's made the painful discovery that great sex is not enough to make a man realize he's in love will sympathize. Too Hot to Touch flips the power balance." –BN.com Romance Reviews
"I enjoyed the banter between all the characters. We get a little hint as to who Danny's heroine will be as his book will pick up where this one leads off.  It's overall an enjoyable read, and I'll be picking up Danny's book when it comes out." –Happily Ever After Reads
JUST ONE TASTE
"The third addition to Edwards' contemporary, culinary-based love stories is a rare treat that is certain to satisfy readers with its delectable combination of lusciously sensuous romance and irresistibly clever writing." —Booklist
"Laugh-out-loud funny, Just One Taste was a surprisingly tasty story of two unlikely people meeting and falling in love…A fun, light read with plenty of humor and passion, Just One Taste makes it to my keeper shelf and has me searching for the book preceding this one." —Affair de Coeur
"Awesome characters, delicious food and even more fabulous sex makes for a super sexy and fun read!  Edwards does it again.  Her stories are fun but so meaningful, and I will definiltey be reading her next book!" —The Book Lush
"This is a wonderfully tasty series. Once you take the first bite of this story you'll be hooked to the very last bite." —Once Upon A Romance (5 Stars)
"There are a lot of elements in Just One Taste, and Edwards juggles them like a pro. The addition of mouthwatering recipes at the end of the book enhances the excellent reading experience, and draws you into the world of cooks and cooking. A very enjoyable contemporary romance with plenty of bite and heart." —Sacramento Book Review
"I absolutely love Top Chef and Iron Chef America but have never really picked up a food/chef related novel before. I'm happy to report that Just One Taste was fun, sweet, and deliciously romantic."—PS I Love Books
"This is my first 'taste' of a Louisa Edwards book, and I'll be going out for the others in this series. If you want a story with sweet romance, definite sensuality and enough laughs to make your day, then you need to read Just One Taste." —Long And Short Reviews
"Rosemary is probably one of the most intricately sketched heroines I've ever seen in a book, and the romance is, in a word…intense, and the blending of the story was richly presented. Make it a point to read this Perfect 10 today!" —Romance Reviews Today
"Rosemary and Wes are each so very charming on their own, and together they just capture your heart. Just One Taste by Louisa Edwards has plenty of clever teasing between characters, and the tension and emotion keep those pages flipping like flapjacks!" —The Romance Readers Connection
"Funny, entertaining, and simmering with sexual chemistry." —Bookloons 
St. Martin's Press, 9780312356484, 348pp.
Publication Date: August 2, 2011
About the Author
Louisa Edwards is the author of "Can't Stand the Heat," "On the Steamy Side," and "Just One Taste." She grew up in Virginia, where at the age of 11, she was already sneaking Harlequin romances from her grandmother's suitcase, much to her parents' horror. She graduated from Bryn Mawr College before moving to Manhattan to work in book publishing a dream job that allowed her to earn a living by reading romance novels. She later moved to Ohio, where she worked as a restaurant reviewer. The Recipe for Love series combines her love of food and romance. When she's not writing, Louisa eats at as many wonderful restaurants as possible purely for research, of course."
or
Not Currently Available for Direct Purchase