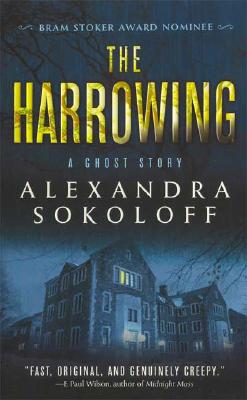 The Harrowing (Mass Market Paperback)
St. Martin's Paperbacks, 9780312357498, 320pp.
Publication Date: October 30, 2007
* Individual store prices may vary.
Description
Baird College's Mendenhall echoes with the footsteps of students heading home for Thanksgiving break, and Robin Stone, who won't be going home, swears she can feel the creepy, hundred-year-old residence hall breathe a sigh of relief for its long-awaited solitude. As a massive storm approaches, four other lonely students reveal themselves to Robin: Patrick, a handsome jock; Lisa, a manipulative tease; Cain, a brooding musician; and Martin, a scholarly eccentric. Each has forsaken a long weekend at home for their own secret reasons.

The five unlikely companions establish a tentative rapport, but they soon become aware of another presence disturbing the building's ominous silence. Are they the victims of an elaborate prank, or is the energy evidence of something genuine--something intent on using them for its own terrifying ends? Together, they'll face three long days and dark nights before the world returns to find out what's become of five students nobody wants and no one will miss…
About the Author
ALEXANDRA SOKOLOFF works as a screenwriter and lives in Los Angeles, where she has written original scripts and adapted novels for numerous Hollywood studios. THE HARROWING is her first novel; the psychological undercurrents of the book are drawn from her experience teaching emotionally disturbed and incarcerated teenagers in the Los Angeles County prison system. Visit her website at www.alexandrasokoloff.com.
Praise For The Harrowing…
"Poltergeist meets The Breakfast Club."—Kirkus Reviews "[A] pyrotechnic climax...a cinematic finale."—Publishers Weekly
"A real page-turner, a first novel of unusual promise."—Ira Levin, author of Rosemary's Baby "Fast, original, and genuinely creepy."—F. Paul Wilson, author of Midnight Mass "Pulsates with a fear factor that starts early and doesn't stop until the last page." —Florida Sun-Sentinel

"Absolutely gripping…It is easy to imagine this as a film…Once started, you won't want to stop reading." --The Times (UK) "An eerie ghost story that captivates readers from page one. The author creates an element of suspense that builds until the chillingly believable conclusion. Four stars." —Romantic Times Book Reviews

"Alexandra Sokoloff conjures up a demon older than time and humanity and yet rooted in modern psychology. She brings all her skills as a screenwriter to a tale of supernatural terror as swift as a film."—Ramsey Campbell, author of The Overnight

"Good, engrossing fun." —Booklist

"Sokoloff's debut novel is a furiously paced, deftly plotted joy, bursting at the seams with disquieting imagery and carrying a disturbingly dark undercurrent. It gave me a nightmare…and that's rare."—Tim Lebbon, author of Dusk

"The Harrowing is more than an impressive debut novel; it is an impressive work, period...Highly recommended." —BookReporter.com

"A top-notch gripping ghost story from the first page." —New Mystery Reader

"Sokoloff's screenplay training pays off with this economical and very scary tale of five alienated teens who get caught up in forces far, far beyond their control, but she scores extra points for the biblical twist that really ratchets up the tension." —Sarah Weinman

"You won't be able to put this gripping page-turner down." —Bookloons

"A wild and frightening journey that explores an evil that most of us might not know about." —Full Effect Magazine

"....takes a familiar premise... and adds a decidedly ancient mystic twist that ups the scare factor several-fold." —Baltimore Sun

"Scary without being gory, this book has just the right blend of psychological drama, mystery, romance, and creepiness." —VOYA

"The Breakfast Club meets The Shining in this engrossing, hard-to-put-down novel." —Armchairinterviews.com
or
Not Currently Available for Direct Purchase