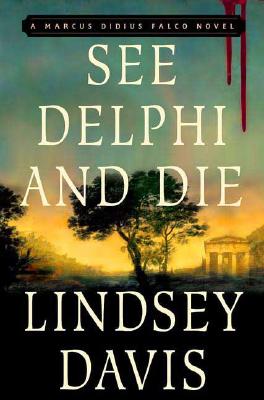 See Delphi and Die (Hardcover)
A Marcus Didius Falco Mystery
Minotaur Books, 9780312357658, 320pp.
Publication Date: May 30, 2006
* Individual store prices may vary.
Description
It's 76 A.D. during the reign of Vespasian, and Marcus Didius Falco has achieved much in his life. He's joined the equestrain rank, allowing him to marry Helena Justina, the Senator's daughter he's been keeping time with the past few years. But that doesn't mean all is quiet for Falco, Helena, and their two young daughters. By trade he is an informer, a man who looks into sticky situations, and he's been hired to pry his errant brother-in-law away from a murder investigation. Which means Falco must himself take it on -- requiring that Falco and Helena travel to Olympia in Greece under the guise of being tourists interested in the classic sites to investigate the suspicious goings on and the shady dealings of a fly-by-night travel agency. With two woman already missing from the packaged tour, things only get stickier when two more - including Falco's brother-in-law - disappear in what is Falco's most complex and dangerous case yet.
About the Author
Lindsey Davis's Falco novels are published in over a dozen languages throughout the world and are perrenial bestsellers in many. She was awarded the first Ellis Peters Historical Dagger (for "Two for the Lions"). She resides in London, England.
Praise For See Delphi and Die: A Marcus Didius Falco Mystery…
"Davis makes Rome live."
—Washington Post Book World "Davis has mastered the art of …blending humor with history."—Philadelphia Inquirer
 
"Elegant and intelligent…A bittersweet solution that's a tribute to the complexity and depth of this series."—Kirkus Reviews (starred review) "Marvelous…If Sam Spade traveled back in time to A.D. 76 he'd be Marcus Didius Falco."—Booklist 
"Every book in this series is a delight, the characters so finely drawn that they have become good friends and the plots so unusual and frothy with humor that it comes as a surprise when the climax is so shocking and original."—Library Journal (starred review)
 
"[A] vivid picture of life in A.D. 76… Sparkling characterizations."—Publishers Weekly
 
"A delight, combining suspense with a fascinating look at ancient Rome's manners and morals."—San Diego Union-Tribune on Silver Pigs
 
"Wickedly convoluted… Falco's facetious tongue and domestic complications are the real fun."—Time
or
Not Currently Available for Direct Purchase