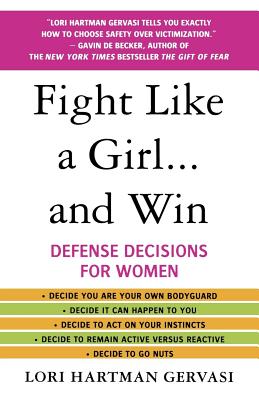 Fight Like a Girl...and Win (Paperback)
Defense Decisions for Women
St. Martin's Griffin, 9780312357726, 304pp.
Publication Date: August 21, 2007
* Individual store prices may vary.
Description
A kick-ass practical guide that packs a major punch ... without even throwing one! Self-defense lecturer and no-nonsense blonde bombshell Lori Gervasi lays out simple actions and important decisions women must make BEFORE they find themselves in physical danger to eliminate surprise and panic.
It's an unfortunate reality that women are susceptible to random acts of aggression, from sexual harassment and stalking to physical assaults, domestic violence, date rape and worse. But women can learn how to protect and defend themselves -- with this groundbreaking guidebook. Let martial arts black belt and accomplished journalist Lori Hartman Gervasi walk you through easy-to-follow, everyday steps for taking charge of your personal safety, training your reflexes, and -- if and when the time comes -- using force. Her program consists of 26 potentially life-saving decisions that every woman must make, including:
DECIDE TO BELIEVE IN YOUR FIGHT – Battles are waged from the inside out. Your conscience, intelligence, and guts must be committed to the cause. You and those you love are the things worth fighting for.
DECIDE TO DEVISE A STRATEGY – Create a one-way ticket out of every imaginable circumstance, from back-door escape routes to getaways in public places. Think "what-if…?", plan for the unexpected, and be ready for anything!
DECIDE TO RECOGNIZE THE THREAT OF THE INITIAL ATTACK – When practicing awareness, you can detect danger before it happens. The bad guy will take steps to get close to you. Watch carefully and identify these for what they are—the preludes to an attack.
DECIDE TO MOVE – If an attacker strikes, don't freeze—get moving! Break through your fear with instant mobility. You have limitless options and any movement works as long as it leads to your safety.
DECIDE TO ACT ON YOUR INSTINCTS – Your intuition is your guide, but you must respond physically in order to be successful. When something isn't right, take action, change plans, redirect yourself, and control your destiny!
…along with Defense Do's And Don'ts, inspiring "Power Points," and other survival tactics that can help you to be prepared, stay strong, and
FIGHT LIKE A GIRL…AND WIN
About the Author
Lori Harman Gervasi is a black belt, trained in Traditional American Karate, a martial art style based on conventional methods such as Okinawan Shorin-Ryu and Japanese Shotokan. She worked as a television journalist for ABC News and Channel 9 News in Los Angeles. She is the author of Fight Like a Girl ... and Win. She lives in California.
Praise For Fight Like a Girl...and Win: Defense Decisions for Women…
"This book stands strong against a continuous, 5-million year history of violence against women. Lori Gervasi tells you exactly how to choose safety over victimization." —Gavin de Becker, author of New York Times bestseller The Gift of Fear