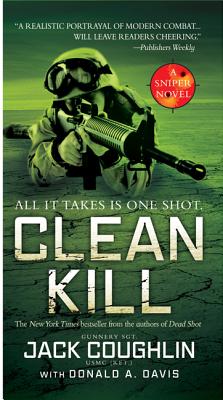 Clean Kill
A Sniper Novel (Kyle Swanson Sniper Novels #3)
Paperback

* Individual store prices may vary.
Other Editions of This Title:
Digital Audiobook (8/17/2015)
Hardcover (3/2/2010)
Description
On the heels of the New York Times bestselling Dead Shot comes the most thrilling installment of the Kyle Swanson series yet, in which an attempt at a new peace in the Middle East is shattered by an unknown attacker, and only Swanson can find out who's responsible

At a 15th Century castle outside Edinburgh, Scotland, Sir Geoffrey Cornwell is brokering an unprecedented agreement. Prince Abdullah of Saudi Arabia and the Israeli Foreign Minister are scheduled to sign an historic peace treaty—that is, until their meeting is violently interrupted by a missile strike that leaves the Foreign Minister of Israel dead and Cornwell and the Prince injured.
Gunnery Sergeant Kyle Swanson is running covert missions in the mountains of Pakistan when he's called away from duty. He leaves for the U.K., where he thwarts another attempt on the prince of Saudi Arabia's life. The attackers are Middle Eastern, but they aren't working for Al Qaeda—they're employed by foreign operatives opposed to the peace agreement and determined to claim Saudi oil reserves for themselves by whatever means necessary. Meanwhile, out of hiding and back from the dead comes Juba, one of the deadliest terrorists in the world and Kyle Swanson's nemesis, who is determined to exact revenge on the man who nearly took his life.
With scenes of tremendous suspense that span the globe, Clean Kill puts Swanson in the sights of a group whose greed and vengeance know no limits. But their deadly ambitions also bring them into his sights, which is the wrong place to be.
Praise For Clean Kill: A Sniper Novel (Kyle Swanson Sniper Novels #3)…
"The pages fly by as Swanson must face his most personal mission yet. The military tactics take a backseat to the characters, creating a strong and compelling narrative. Coughlin and Davis have concocted another winner that should only encourage a growing readership." —Booklist
"Former Marine Coughlin and bestseller Davis combine a well-paced, credible plot with a realistic portrayal of modern combat. . . . The climax . . . will leave readers cheering." —Publishers Weekly
"Compelling." —Publishers Weekly on "Dead Shot: A Sniper Novel"
"The [plot] propels the pages forward, but this one isn't all about action: Swanson proves a surprisingly complex character...Dead Shot suggest[s] a hardware-heavy story that only an armed- services veteran could love. Surprisingly, it's completely the opposite. Readers will be compelled...and will look forward to another Swanson adventure." —Booklist on "Dead Shot: A Sniper Novel"
"Stunning action, excellent tradecraft, insider politics, and the ring of truth. Just about perfect." —Lee Child on "Kill Zone: A Sniper Novel"
"Tight, suspenseful…Here's hoping this is the first of many Swanson novels." —Booklist on "Kill Zone: A Sniper Novel"
"The action reaches a furious pitch." —Publishers Weekly on "Kill Zone: A Sniper Novel"
"One of the best snipers in the Marine Corps, perhaps the very best. When I asked one of his commanders about his skills, the commander smiled and said, 'I'm just glad he's on our side.'" —Peter Maass, war-correspondent and bestselling author of Love Thy Neighbor on "Shooter"
"The combat narratives here recount battlefield action with considerable energy . . . A renowned sniper, Coughlin is less concerned with his tally than with the human values of comradeship and love." —The Washington Post on "Shooter"
"Coughlin is a sniper, perhaps one of the most respected and feared in the Corps, and his memoir, Shooter, offers a uniquely intimate look into the life of one trained to live in the shadows . . . some of the most poignant action ever recorded in a modern Marine memoir." —Seapower magazine on "Shooter"
St. Martin's Paperbacks, 9780312358075, 416pp.
Publication Date: August 31, 2010
About the Author
Gunnery Sgt. Jack Coughlin's autobiography, Shooter, describes his experiences as the top-ranked marine sniper in the Iraq War. Coughlin is also the author, with Donald A. Davis, of the Kyle Swanson Sniper Novels, including Long Shot and In the Crosshairs. Coughlin grew up in Waltham, Massachusetts, and joined the Marines when he was 19. He served with the Marines during the drive to Baghdad and has operated on a wide range of assignments in hot spots around the world.

Donald A. Davis is co-author of New York Times bestseller Shooter: The Autobiography of the Top-Ranked Marine Sniper and author of Lightning Strike: The Secret Mission to Kill Admiral Yamamoto and Avenge Pearl Harbor. He lives outside Boulder, Colorado.
or
Not Currently Available for Direct Purchase