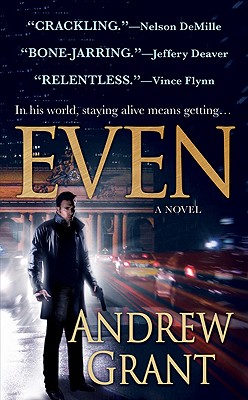 Even (Mass Market Paperback)
St. Martin's Paperbacks, 9780312358488, 384pp.
Publication Date: March 30, 2010
Other Editions of This Title:
Hardcover (5/12/2009)
Compact Disc (5/12/2009)
Audio Cassette (5/1/2009)
Pre-Recorded Audio Player (6/1/2009)
MP3 CD (5/12/2009)
Compact Disc (5/12/2009)
* Individual store prices may vary.
Description
He's one of the best undercover agents in the world. A seasoned operative for British intelligence. But when he finds a body in the streets of New York, David Trevellyan is a prime suspect. Arrested by the NYPD, interrogated by the FBI, Trevellyan swears he had nothing to do with it. But no one believes him especially when the victim turns out to be a federal agent. Now his country won't help him. His contacts can't save him. But that won't stop a man like Trevellyan. Whoever set him up is going down. Even if it kills him
About the Author
Andrew Grant was educated at the University of Sheffield where he studied English Literature and Drama. After graduation, he ran a small independent theatre company then worked as a telecommunications executive for fifteen years. "Even" is his first novel.
Praise For Even…
"Andrew Grant's debut novel reads like it was written by an old pro with new things to say. Even is a bit of LeCarre and Ian Fleming, but with more grit and a sharper edge. Wonderful sardonic wit and crackling dialogue."—Nelson DeMille

"In Even, Andrew Grant introduces British naval intelligence officer David Trevellyan, a man born to fight and trained to win, locked in a suspenseful contest with terrifying adversaries. An excellent thriller that feels like breaking news."—Thomas Perry
"The first paragraph is a whopper. . .the last one made me gasp. With surprise. With delight. David Trevellyan is by turns witty and wicked. Fans of 007 will be shaken and stirred."—Sandra Brown

"Modern noir at its best . . . Even is brilliantly plotted and smart, and delivers the bone-jarring kick of a .45. Here's hoping author Grant is hard at work on the next installment featuring his thoroughly compelling tough guy hero, David Trevellyan."—Jeffery Deaver
"Andrew Grant storms onto the scene with a thriller that is pure entertainment. He has a relentless writing style that is grippingly addictive and heralds a remarkable talent in the making. I couldn't put it down."—Vince Flynn

"Move over Jason Bourne. British Marine David Trevellyan can outwit, outmaneuver and overpower the best of them in this rocket-ride of a thriller. I always like a man who knows how to get even."—Lisa Gardner
"Even is a slam-bam humdinger of a thriller, with breakneck pacing that won't leave you even a moment to catch your breath. Andrew Grant has created a hero so intriguing that readers will surely clamor for the next book in what I hope will be a long-lived series. I will certainly be looking forward to it!"—Tess Gerritsen

"Think a young British Jason Bourne framed and trapped in New York City and running for his life. Think about a new author on the scene who writes action like a veteran. Think about trying to put this book down, and then clear your calendar: it ain't going to happen."—Ridley Pearson
"Jason Bourne fans will welcome Grant's thrill-packed debut…Grant, bestseller Lee Child's younger brother, never strikes a false note in a plot that could have gone over-the-top in lesser hands. Effortlessly filling in bits of his protagonist's backstory during breathing spaces between action scenes, Grant closes on a nicely dark note." –Publishers Weekly (starred review)

"Trevellyan is likely to be compared to [Grant's] brother's hero, Jack Reacher, or even to James Bond…there can be no doubt that we have a new guy on the block who requires attention."—Booklist

"A stylish, suspenseful, and overall stunning debut, essential for all thriller collections."—Library Journal (starred review)

"A well-oiled machine of a thriller that satisfies at every turn."—Providence Journal-Bulletin
"A very satisfying debut from a novelist of great promise."—Deadly Pleasures
"A super-charged, pulse-pounding thriller."—Lansing State Journal
"A solid debut for an exciting spy series."—Mystery Scene
or
Not Currently Available for Direct Purchase