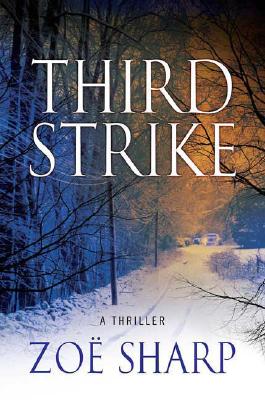 Third Strike: A Thriller (Hardcover)
A Thriller
Minotaur Books, 9780312358976, 336pp.
Publication Date: October 14, 2008
* Individual store prices may vary.
or
Not Currently Available for Direct Purchase
Description
"I was running when I saw my father kill himself. Not that he jumped off a tall building or stepped in front of a truck but – professionally, personally – what I watched him do was suicide."

The last person that professional bodyguard, Charlotte "Charlie" Fox, ever expected to self-destruct was her own father, an eminent surgeon. But when Charlie unexpectedly sees him admitting to gross professional misconduct on a New York news program, she can't just stand by and watch his downfall.

That's not easy when Richard Foxcroft, always cold towards his daughter, rejects her help at every turn. The good doctor has never made any secret of his disapproval of Charlie's choice of career – or her relationship with her boss, Sean Meyer. And now, just as Charlie and Sean are settling in to their new life in the States, Foxcroft seems determined to go down in a blazing lack of glory, and take Charlie and everyone she cares about down with him.

But he has not bargained on Charlie's own ruthless streak. And when the game turns deadly, Charlie will need to stake her life and her father's against a formidable foe.
About the Author
Zoe Sharp is the author of Barry Award finalist "First Drop" and "Second Shot. "She spent most of her childhood living aboard a catamaran on the northwest coast of England. She opted out of mainstream education at the age of twelve and wrote her first novel when she was fifteen. Zo? went through a variety of jobs in her teenage years, before becoming a freelance photojournalist in 1988. She lives with her husband in Cumbria, England, where she is hard at work on her next novel.
Praise For Third Strike: A Thriller…
Outstanding Praise for Zoë Sharp and the Charlie Fox Thrillers

"Breathlessly compelling and utterly real, Third Strike will keep you turning pages till dawn."
- Jeffery Deaver

"Zoë Sharp's Charlie Fox is the real deal. Highly recommended."
- Lee Child

"Arguably one of the most enigmatic -- and coolest -- heroines in contemporary genre fiction. Male and female crime fiction fans alike will find Sharp's writing style addictively readable. Breakneck pacing and a surprising undercurrent of wry wit make this one of the very best crime fiction sagas out there."
- Chicago Tribune on Third Strike

"Get set for a roller-coaster ride…Sharp captures readers on the first page and doesn't let go. Charlie is something of a reincarnation of Modesty Blaise. Highly recommended."
- Library Journal (starred review) on Third Strike

"Expertly captures the frenetic energy of New York without sacrificing [Sharp's] trademark British wit. Charlie is as tough as she is damaged, and readers will kill for the next installment."
- Publishers Weekly on Third Strike

"A female version of Lee Child's Jack Reacher – Charlie Fox is tough, no-nonsense and more than capable of breaking heads when the occasion requires it. The action in Third Strike always keeps the momentum moving and the stakes high…. a fast-paced, entertaining ride."
- Chicago Sun-Times

"Stunning . . . Sharp's aim is dead on. Action-packed, tightly plotted . . . irresistible. This crisp, original thriller should win Sharp plenty of American fans."
- Publishers Weekly (starred review) on First Drop

"Second Shot crackles with suspense, showcasing crisp prose, plenty of plot twists, and a heroine who adds new meaning to the term femme fatale."
- Booklist (starred review)

"Charlie Fox is fast becoming the must-read heroine of mystery."
- Ken Bruen, author of Once Were Cops

"Sharp is a writer of extraordinary skill. I felt I was right there with Charlie…. The action is vivid, and Charlie is a most realistic and engaging hero. I can't wait to see how the last scene in this book plays out in the next in the series."
- Deadly Pleasures on Third Strike

"Zoë Sharp is one of the best novelists in the business, and her hero Charlie Fox---comparable to Lee Child's Jack Reacher---is arguably the most complex, endearing and believable protagonist to grace the pages of a thriller in years. Fans of Child, Coben and Connelly will find Sharp's Charlie Fox novels addictive reading."
- Chicago Tribune on Second Shot

"Zoë Sharp is going to be a superstar."
- Jon Jordan, Crimespree Magazine
Advertisement