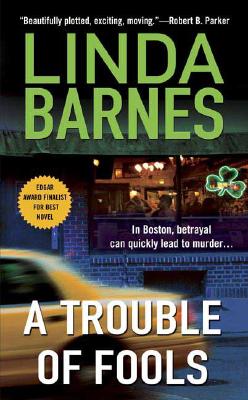 A Trouble of Fools (Mass Market Paperback)
Minotaur Books, 9780312359430, 240pp.
Publication Date: June 27, 2006
Other Editions of This Title:
Mass Market Paperback (10/1/1988)
* Individual store prices may vary.
Description
The first book in the Carlotta Carlyle series!

Linda Barnes's A Trouble of Fools is the book that introduced readers to ex-Boston cop and PI Carlotta Carlyle, who knows trouble when she sees it like the old Irish lady offering a grand in cash to find her brother...

TROUBLE…
Since being bounced from the Boston police for insubordination after six years of service, Carlotta Carlyle has set up shop as a private investigator ready to deal with anything from lost pets to substantially grander larcenies. Though Carlotta, a six-foot-tall, redheaded ex cop, part-time cabbie, and neophyte private eye, works out of her home, it's rare that clients stop by unannounced. Especially clients like the genteel, reserved, elderly spinster Miss Margaret Devens.

ALWAYS COMES…
With cash flow problems and a caseload so light that she's taken to reading her cat's mail, Carlotta accepts the case of Miss Devens's missing brother Eugene. Oddly enough, Carlotta knew Eugene when they worked together back at Green and White Cab. As far as Carlotta sees it, this case should be a pinch--until two thugs looking for money send her client to the hospital.

WHEN YOU LEAST EXPECT IT…
The old lady's missing brother seems to have been involved in something much more dangerous than simply driving a cab. Carlotta is determined to do whatever it takes?work the cops, pose as a hooker, and even drive a cab again--to find Eugene before it's too late.

"She is one of the most sparkling, most irresistible heroines ever to grace the pages of a whodunit."
?Chicago Sun-Times

"All elements are skillfully woven together in a book that has just about everything."
--Denver Post

About the Author
LINDA BARNES is the author of eleven Carlotta Carlyle mysteries, winner of the Anthony and American Mystery Awards, and Edgar Award finalist. She lives in the Boston area with her husband and son.""
Praise For A Trouble of Fools…
"Carlotta [is] pure gold."?Publishers Weekly

"Beautifully plotted, exciting, moving, and leavened with wit."--Robert B. Parker

"Carlotta Carlyle is one of the most refreshing private eyes to come along. [She] is the spunky sort of gal you'd like to have for a sister or best friend. She's loyal, warm, persistent, intelligent, savvy--all the right stuff...[a] challenging and inventive plot."--Indianapolis News

"Carlotta bristles with vitality and a slightly sardonic view of herself and the world. She's smart but not smart-alecky; the plot is bizarre but never beyond reason. Engaging and engrossing all the way."
--Kirkus Reviews

"You will be caught up in Carlotta's adventures. For she is one of the most sparkling, most irresistible heroines ever to grace the pages of a whodunit…it's top-drawer all the way."--Chicago Sun-Times

"Even in the detective-glutted Boston area, it's hard to miss Carlotta Carlyle…this is an author who's nobody's fool when it comes to writing a slick lively story that's all in good fun."--St. Petersburg Times
or
Not Currently Available for Direct Purchase