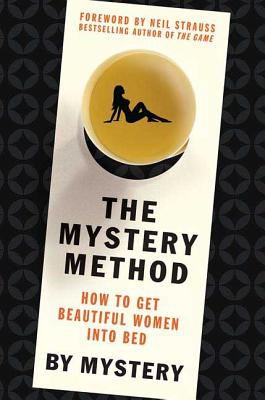 The Mystery Method (Hardcover)
How to Get Beautiful Women Into Bed
St. Martin's Press, 9780312360115, 240pp.
Publication Date: February 6, 2007
Other Editions of This Title:
MP3 CD (7/9/2007)
Compact Disc (7/9/2007)
Compact Disc (7/9/2007)
Pre-Recorded Audio Player (3/1/2009)
* Individual store prices may vary.
Description
"One of the most admired men in the world of seduction" (The New York Times) teaches average guys how to approach, attract and begin intimate relationships with beautiful women
For every man who always wondered why some guys have all the luck, Mystery, considered by many to be the world's greatest pickup artist, finally reveals his secrets for finding and forming relationships with some of the world's most beautiful women. Mystery gained mainstream attention for his role in Neil Strauss's New York Times bestselling exposé, The Game. Now he has written the definitive handbook on the art of the pickup.
He developed his unique method over years of observing social dynamics and interacting with women in clubs to learn how to overcome the guard shield that many women use to deflect come-ons from "average frustrated chumps."
The Mystery Method: How to Get Beautiful Women Into Bed shares tips such as:
*Give more attention to her less attractive friend at first, so your target will get jealous and try to win your attention.
*Always approach a target within 3 seconds of noticing her. If a woman senses your hesitation, her perception of your value will be lower.
*Don't be picky. Approach as many groups of people in a bar as you can and entertain them with fun conversation. As you move about the room, positive perception of you will grow. Now it's easy to meet anyone you want.
*Smile. Guys who don't get laid, don't smile.
About the Author
Mystery is the alter-ego of entertainer Erik von Markovik, the star of VH1's The Pickup Artist and the world's foremost expert in the art and science of social dynamics. Mystery exploded onto the underground pickup and seduction scene in the late 1990s with his groundbreaking contributions to the art, and he was the first pickup instructor to offer live, in-field training. Mystery has trained thousands of students all over the world, including a who's who of the most respected pickup artists teaching today. Mystery gained international prominence when his exploits were documented in Neil Strauss' 2005 bestseller The Game: Penetrating the Secret Society of Pickup Artists, and he has also been covered by a wide variety of media including CNN, Conan O'Brien, and The New York Times.

Chris Odom contributed to The Mystery Method: How to Get Beautiful Women in Bed.
Praise For The Mystery Method: How to Get Beautiful Women Into Bed…
"Meticulously researched ... You'll laugh ... but in the end, you'll probably learn something." —Publishers Weekly
"Von Markovik knows what he's talking about." —Library Journal