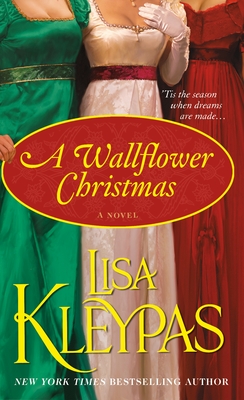 A Wallflower Christmas (Paperback)
A Novel
St. Martin's Paperbacks, 9780312360733, 224pp.
Publication Date: November 2, 2010
Other Editions of This Title:
MP3 CD (9/1/2015)
Compact Disc (11/2/2010)
Compact Disc (10/7/2014)
Paperback, Large Print (10/15/2010)
MP3 CD (11/2/2010)
Compact Disc (11/2/2010)
Pre-Recorded Audio Player (8/1/2010)
MP3 CD (10/14/2008)
* Individual store prices may vary.
Description
The Wallflowers are four young ladies in London who banded together in their wild and wickedly wonderful searches for true love. Now happily married, they join together once again to help one of the world's most notorious rogues realize that happiness might be right under the mistletoe.…
It's Christmastime in London and Rafe Bowman has arrived from America for his arranged meeting with Natalie Blandford, the very proper and beautiful daughter of Lady and Lord Blandford. His chiseled good looks and imposing physique are sure to impress the lady in waiting and, if it weren't for his shocking American ways and wild reputation, her hand would already be guaranteed. Before the courtship can begin, Rafe realizes he must learn the rules of London society. But when four former Wallflowers try their hand at matchmaking, no one knows what will happen. And winning a bride turns out to be more complicated than Rafe Bowman anticipated, especially for a man accustomed to getting anything he wants. However, Christmas works in the most unexpected ways, changing a cynic to a romantic and inspiring passion in the most timid of hearts.
Lisa Kleypas's A Wallflower Christmas takes a trip to Victorian London, under the mistletoe, and on a journey of the heart. With her trademark charm, sensuality, and unforgettable characters, there's no one like Lisa Kleypas to make you believe in the magic of Christmas.
About the Author
Lisa Kleypas is the RITA Award-winning author of many contemporary and historical romance novels, including A Wallflower Christmas, Christmas Eve at Friday Harbor, and Love in the Afternoon. Her books are published in fourteen languages and are bestsellers all over the world. Kleypas graduated from Wellesley College and published her first novel at the age of 21. In 1985, she was named Miss Massachusetts in the Miss America competition. She lives in Washington with her husband and two children.
Praise For A Wallflower Christmas: A Novel…
"Enchanting romance...Lisa Kleypas has created a cast of characters that could keep readers enthralled for years." —Chicago Tribune on Tempt Me at Twilight
"Brimming with superbly nuanced characters, simmering sexual chemistry, and wicked wit, the latest in Kleypas' Victorian-set Hathaway series is a thoroughly romantic literary treat." —Booklist on Tempt Me at Twilight
"From the first page to the last of her latest Hathaway novel, Kleypas delivers a witty, charming (wait until you meet the animals!), vibrant, sensual love story that takes your breath away. Her unique storytelling shines as she creates situations that elicit powerful emotions. Best of all, just when you think you know what's going to happen, she surprises you in this deep-sigh story." —Romantic Times BOOKreviews on Tempt Me at Twilight
"A delectable story with a hero and heroine to savor. It's a fine addition to the Hathaway family series." —The Romance Reader on Tempt Me at Twilight
"An absolute delight." —Night Owl Romance on Tempt Me at Twilight
"Has plenty to keep readers turning the pages: Wit, suspense, secrets to learn and, of course, lots of love and passion…" —The Monitor on Seduce Me at Sunrise
"Each member of the family is a delight to meet, and the depths of emotions and love they have for each other is shown magnificently...a spectacular story that continues the saga of the Hathaway family." —Romance Reviews on Seduce Me at Sunrise
"Lushly sexy and thoroughly romantic…superbly crafted characters and an intriguing plot blend together brilliantly in this splendid romance." —Booklist on Seduce Me at Sunrise
"Vintage Kleypas…An unforgettable story peopled with remarkable characters and a depth of emotion that will leave you breathless with the wonderment of knowing what falling in love is really like." —Romantic Times BOOKreviews on Mine Till Midnight
"Kleypas's effortless style makes for another sexy exploration of 19th-century passion and peccadilloes, riveting from start to finish." —Publishers Weekly on Mine Till Midnight
"Will steal the hearts of readers." —The Post and Courier (Charleston, SC) on Mine Till Midnight
"Captivating…The love story brims with humor and touches of pathos as the characters struggle with lost love and relinquishing grief to embrace life anew." —Fresh Fiction