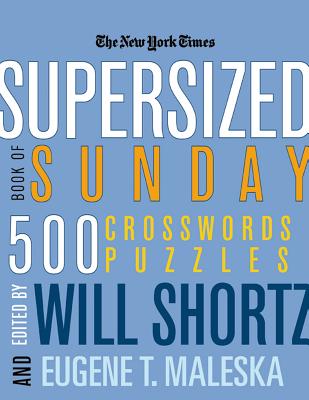 The New York Times Supersized Book of Sunday Crosswords (Paperback)
500 Puzzles
St. Martin's Griffin, 9780312361228, 592pp.
Publication Date: September 19, 2006
Other Editions of This Title:
Spiral bound (4/3/2018)
Spiral bound (10/9/2018)
Spiral bound (9/17/2019)
Spiral bound (8/21/2018)
Paperback (11/16/2002)
Spiral bound (1/8/2019)
Spiral bound (2/16/2016)
Paperback (7/8/2014)
Spiral bound (8/25/2020)
Paperback, Large Print (4/21/2020)
Spiral bound (1/7/2020)
* Individual store prices may vary.
Description
500 puzzles; the biggest collection of Sunday crosswords (the Times' most popular) EVER. Everything about the New York Times Supersized Book of Sunday Crosswords is, well, supersized. At one hour per puzzle (that's pretty fast!), eight hours of solving per day, it would still take two months of solid solving to finish this book.
About the Author
The New York Times is a daily newspaper published in New York City and distributed internationally. Founded in 1851, the newspaper has won 112 Pulitzer Prizes, more than any other news organization. Its website receives 30 million unique visitors per month.

Will Shortz has been the crossword puzzle editor of The New York Times since 1993. He is also the puzzlemaster on NPR's Weekend Edition Sunday and is founder and director of the annual American Crossword Puzzle Tournament. He has edited countless books of crossword puzzles, Sudoku, KenKen, and all manner of brain-busters.

Eugene T. Maleska was crossword puzzle editor of The New York Times from 1977 until his death in 1993. Only the third ever editor of the Times crossword, Maleska was a renowned classicist and teacher as well.