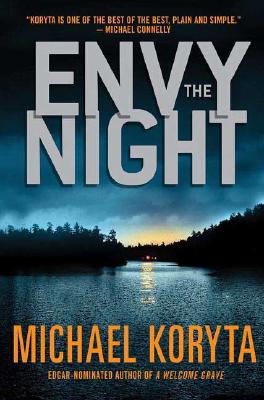 Envy the Night (Hardcover)
Minotaur Books, 9780312361587, 304pp.
Publication Date: August 5, 2008
Other Editions of This Title:
Paperback (8/1/2009)
Compact Disc (4/30/2019)
MP3 CD (4/30/2019)
Mass Market (8/4/2009)
Compact Disc (4/30/2019)
Hardcover, Large Print (11/1/2008)
* Individual store prices may vary.
Description
"Michael Koryta earns a seat at the high table of neo-noir crime writers by putting a fresh spin on the fathers-and-sons narrative."
---The New York Times

"Koryta is one of the best of the best, plain and simple."
---Michael Connelly


"I've read the heir apparent. There is grit and determination in this writing; there is heart and character; the threat of violence first simmers, then boils over. The pulse quickens. This diabolical novel, laid out in simple but eloquent prose and pitch-perfect dialogue, heralds a changing of the guard. I have seen the future of 'The Best Mystery Writer in America' and its name is Michael Koryta."
---Ridley Pearson

"Superb writing and storytelling from Michael Koryta, one of crime fiction's brightest young talents. Envy the Night represents his finest work to date."
---George Pelecanos

In this first stand-alone novel from the critically acclaimed Edgar Award-finalist, Michael Koryta fulfills his early promise with a dark and mature novel of a young man trying to escape his past.

It has been seven years since Frank Temple III joined the rest of the world in learning his father's bloody secret: The U.S. marshal maintained a covert career as a contract killer, a double-life that ended in suicide to avoid prosecution and prison.

The shocking revelation triggered years of anonymous drifting for Frank, time spent running from his legacy and struggling to believe that the father he'd loved so dearly was entirely in the wrong. After all, the victims hadn't been innocents. And Devin Matteson, the man who'd lured his father into the killing game only to later give him up to the FBI, is probably the darkest of the lot. Those are troubling thoughts, and Frank tries to stay away from them. But when an old family friend calls to say that Matteson is returning to the isolated Wisconsin lake that was once sacred ground for their families, it's a homecoming Frank knows he can't allow.

His arrival in town reveals a situation far from the expected, though.

While Matteson is nowhere to be found, his old cabin is indeed occupied---by a strange, beautiful woman and a nervous man with a gun. When a pair of assassins from Miami arrive on their heels, Frank knows Matteson can't be far behind. And while the wise move would be to call in the police and get out of town fast, that just doesn't feel right. After all, contract killer or not, Frank's father was at heart a teacher. And his son excelled at the lessons.

Family secrets, mob hitmen, and a father's shadowy legacy combine to make this Koryta's most compelling thriller yet.


"This intricately plotted tale of revenge [has]...characters we root for and twists that keep us guessing. It's one of the best books of the year."
---
Indianapolis Star
"Addictively readable."
---Chicago Tribune

"Sentence for polished sentence, no one in the genre writes better."
---Kirkus Reviews

"Stylish prose...well observed."
---The New York Times

"Haunting writing...sophisticated plotting."
---Publishers Weekly

"It's time to stop referring to Michael Koryta as a boy wonder and just focus on the sheer wonder of his storytelling. Koryta knows how to put his characters---and his readers---into an ever-tightening vise of twists, turns, and conspiracies, but it's his empathy that makes his work stand out."
---Laura Lippman

"For a while now Michael Koryta has been called one of the rising young talents in crime fiction. I say enough of that….Koryta is one of the best of the best, plain and simple."
---Michael Connelly
About the Author
Michael Koryta's first novel, the Edgar-nominated "Tonight I Said Goodbye," was published when he was just twenty-one, and was followed by "Sorrow's Anthem" and "A Welcome Grave." He lives in Bloomington, Indiana, where he has worked as a newspaper reporter and private investigator. His work has been translated into more than ten languages.
Praise For Envy the Night…
"Koryta is one of the best of the best, plain and simple."—Michael Connelly
"With Envy the Night, Koryta earns a seat at the high table of neo-noir crime writers."—The New York Times
"A heart-pounding thriller." —Boston Globe
"Koryta's best work to date." —George Pelecanos
or
Not Currently Available for Direct Purchase