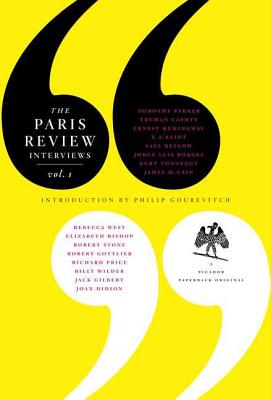 The Paris Review Interviews, I (Paperback)
16 Celebrated Interviews
Picador USA, 9780312361754, 510pp.
Publication Date: October 17, 2006
* Individual store prices may vary.
Description
A Picador Paperback Original
How do great writers do it? From James M. Cain's hard-nosed observation that "writing a novel is like working on foreign policy. There are problems to be solved. It's not all inspirational," to Joan Didion's account of how she composes a book--"I constantly retype my own sentences. Every day I go back to page one and just retype what I have. It gets me into a rhythm"--The Paris Review has elicited some of the most revelatory and revealing thoughts from the literary masters of our age. For more than half a century, the magazine has spoken with most of our leading novelists, poets, and playwrights, and the interviews themselves have come to be recognized as classic works of literature, an essential and definitive record of the writing life. They have won the coveted George Polk Award and have been a contender for the Pulitzer Prize. Now, Paris Review editor Philip Gourevitch introduces an entirely original selection of sixteen of the most celebrated interviews. Often startling, always engaging, these encounters contain an immense scope of intelligence, personality, experience, and wit from the likes of Elizabeth Bishop, Ernest Hemingway, Truman Capote, Rebecca West, and Billy Wilder. This is an indispensable book for all writers and readers.
About the Author
The Paris Review was founded in 1953 and has published early and important work by Philip Roth, V. S. Naipaul, Jeffrey Eugenides, A. S. Byatt, T. C. Boyle, William T. Vollmann, and many other writers who have given us the great literature of the past half century. Some of the magazine's greatest hits have been collected by Picador in The Paris Review Book of People with Problems as well as The Paris Review Book for Planes, Trains, Elevators, and Waiting Rooms and The Paris Review Book of Heartbreak, Madness, Sex, Love, Betrayal, Outsiders, Intoxication, War, Whimsy, Horrors, God, Death, Dinner, Baseball, Travels, the Art of Writing, and Everything Else in the World Since 1953.Philip Gourevitch is the editor of The Paris Review, a staff writer for The New Yorker, and the author of A Cold Case and We Wish to Inform You That Tomorrow We Will Be Killed with Our Families: Stories from Rwanda, winner of the National Book Critics Circle Award.
Praise For The Paris Review Interviews, I: 16 Celebrated Interviews…
"The Paris Review books should be given out at dinner parties, readings, riots, weddings, galas -- shindigs of every shape. And they're perfect for the classroom too, from high schools all the way to MFA programs. In fact, I run a whole semester-long creative writing class based on the interviews. How else would I get the world's greatest living writers, living and dead, to come into the classroom with their words of wisdom, folly and fury? These books are wonderful, provocative, indispensible."--Colum McCann, novelist and Hunter College professor
"I have all the copies of
The Paris Review
and like the interviews very much. They will make a good book when collected and that will be very good for the
Review
."--Ernest Hemingway 
"At their best, the
Paris Review
interviews remove the veils of literary personae to reveal the flesh-and-blood writer at the source. By exposing the inner workings of writing, they place the reader in the driver's seat of literature."--Billy Collins 
"A colossal literary event--worth the price of admission for the Borges interview alone, and of course the Billy Wilder, and the Vonnegut, and and and and . . . Just buy this book and read it all."--Gary Shteyngart 
"The
Paris Review
interviews have the best questions, the best answers, and are, hands down, the best way to steal a look into the minds of the best writers (and interviewers) in the world. Reading them together is like getting a fabulous guided tour through literary life."--Susan Orlean 
"The
Paris Review
interviews are of course a genre unto themselves. We read them hoping the subjects will somehow betray themselves and pass their secrets for writing on to us. Although this never happens, the interviews bring us a little closer to understanding genius. This stellar collection of them is as good a place as any to start."--John Ashbery 
"I have been fascinated by the
Paris Review
interviews for as long as I can remember. Taken together, they form perhaps the finest available inquiry into the 'how' of literature, in many ways a more interesting question than the 'why.'"--Salman Rushdie 
"
The Paris Review
's Writers at Work series is thrilling and terrifying, in part because the writers in the interviews are not technically at work. But nonetheless! here are their wise secrets, their funny stories, their habits, dubious opinions, financial complaints--these glimpses comprise an engaging and important literary record."--Lorrie Moore 
"Nothing is lonelier or riskier than being a writer, and these interviews provide writers at all stages the companionship and guidance they need."--Edmund White 
"The
Paris Review
interviews have always provided the best look into the minds and work ethics of great writers and when read together constitute the closest thing to an MFA that you can get while sitting alone on your couch. Every page of this collection affords a ludicrous amount of pleasure."--Dave Eggers 
"The
Paris Review
interviews are objects of wonder that formed my first and fiercest impression of what it was to be an author. I still ascribe any vivid remembered quote to their pages, even when it didn't appear there."--Jonathan Lethem 
"
The Paris Review
is one of the few truly essential literary magazines of the twentieth century--and now of the twenty-first."--Margaret Atwood