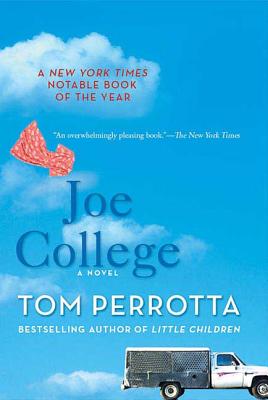 Joe College (Paperback)
St. Martins Press-3pl, 9780312361785, 306pp.
Publication Date: October 1, 2006
* Individual store prices may vary.
Description
For many college students, Spring Break means fun and sun in Florida. For Danny, a Yale junior, it means two weeks behind the wheel of the Roach Coach, his father's lunch truck, which plies the parking lots of office parks in central New Jersey.
But Danny can use the time behind the coffee urn to try and make sense of a love life that's gotten a little complicated. There's loyal and patient hometown honey Cindy and her recently dropped bombshell to contend with. And there's also lissome Polly back in New Haven--with her shifting moods, perfect thrift store dresses and inconvenient liaison with a dashing professor.
If girl problems aren't enough, there's the constant menace of the Lunch Monsters, a group of thugs who think Danny has planted the Roach Coach in their territory.
Joe College is Tom Perrotta's warmest and funniest fiction yet, a comic journey into the dark side of love, higher education and food service.
About the Author
Tom Perrotta is also the author of LITTLE CHILDREN, ELECTION, THE WISHBONES and BAD HAIRCUT. He lives in Belmont, Massachusetts.
Praise For Joe College…
"An overwhelmingly pleasing book"--The New York Times "An absorbing, fleshed-out portrait of an American male edging toward adulthood by crossing seemingly rigid social boundaries."--The New York Times Book Review
 
"Companionable and humane, lighthearted and surprisingly touching."--Newsweek
 "Perrotta transforms eighties nostalgia into art."—Entertainment Weekly