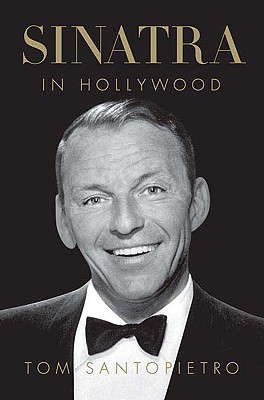 Sinatra in Hollywood (Hardcover)
Thomas Dunne Books, 9780312362263, 544pp.
Publication Date: November 11, 2008
* Individual store prices may vary.
Description
Hollywood legend, Academy Award--winning actor, and recipient of the Golden Globe Award for lifetime achievement in film, Frank Sinatra carved out one of the biggest careers in the history of Hollywood, yet paradoxically his screen legacy has been overshadowed by his extraordinary achievements as a singer and recording artist. Until now.
With the publication of Sinatra in Hollywood, an analytical yet deeply personal look at the screen legend of Frank Sinatra, Sinatra's standing as a significant, indeed legendary, screen actor has now been placed in full perspective. Examining each of Sinatra's seventy film appearances in depth, Tom Santopietro traces the arc of his astonishing six-decade run as a film actor, from his rise to stardom in "boy next door" musical films like Anchors Aweigh and On the Town, through his fall from grace with legendary flops like The Kissing Bandit, to the near-mythic comeback with his Oscar-winning performance in From Here to Eternity.
Laced throughout with Sinatra's own observations on his film work, Sinatra in Hollywood deals head-on with his tumultuous marriages to Ava Gardner and Mia Farrow and directly addresses the rumors of Mob involvement in Sinatra's Hollywood career. Ranging from the specifics of his controversial acting nickname of One Take Charlie to the iconic Rat Pack film Ocean's Eleven, from the groundbreaking performance in The Manchurian Candidate to the moving and elegiac late-career roles as tough yet vulnerable detectives, the myths and personal foibles are stripped away, placing the focus squarely on the work.
Oftentimes brilliant, occasionally off-kilter, but always compelling, Frank Sinatra, the film icon who registered as nothing less than emblematic of "The American Century," here receives his full due as the serious artist he was, the actor about whom director Billy Wilder emphatically stated, "Frank Sinatra is beyond talent."
About the Author
Tom Santopietro has worked for the past twenty years in New York theater as a manager of more than two dozen Broadway shows, including "A Few Good Men, The""Tale of the Allergist's Wife, ""A Doll's House, ""Master Class, ""Tru, ""The Iceman Cometh, " and "Noises Off." He is also author of "The Importance of Being Barbra "and "Considering Doris Day."
Praise For Sinatra in Hollywood…
Advance Praise for Sinatra in Hollywood:

"It's high time someone wrote a serious book about Frank Sinatra's significant movie career. With his knowledge of both movies and music, Tom Santopietro has put one of the biggest careers in Hollywood film history in full perspective. Sinatra's acting talent should be discussed alongside his amazing achievements in music, and this book lays a solid foundation for that process." ---Jeanine Basinger, author of The Star Machine
Praise for Considering Doris Day:
"This book offers serious insight into a relatively neglected life. The observations are apt---and often bold." ---The Atlantic
"Santopietro proves himself a serious and insightful critic." ---Library Journal
"Extremely acute in his critiques, Santopietro is also devastatingly witty." ---The Globe and Mail
"This highly readable book follows her remarkable career and offers readers an intimate glimpse of this extraordinary woman." ---Tucson Citizen
"A vibrant portrait of the artist and the woman." --Publishers Weekly
"Santopietro concentrates on her multifaceted career. He is sympathetic to women and knowledgeable about his subject, and his respect for her is refreshing." ---The New York Times Book Review (Editor's Choice)
The king of the saloon singers was a top-notch actor…when he cared to be.
So argues Santopietro (Considering Doris Day, 2007, etc.), who proves an ideal guide to Ol' Blue Eyes' spotty career as a screen actor. Combining a fan's ardor and enthusiasm with keen critical insight, he convincingly makes the case for Sinatra as a major acting talent while taking the famously mercurial entertainer to task for wasting his prodigious gifts on frivolous projects. In conversational prose, Santopietro covers Sinatra's family life, romances and recording career as they relate to his picture making, demonstrating an encyclopedic knowledge of every theatrical and television film's production details. The author analyzes each movie, often scene-by-scene, wittily explaining what works, what doesn't and why. Clunkers like The Kissing Bandit receive the same close attention as triumphs like On the Town and The Man with the Golden Arm, the better to fully explicate the evolution of Sinatra's craft and at
*Starred Review* Countless books have been written about Frank Sinatra, though they typically focus on his music or broad biography. Santopietro (Considering Doris Day) directs his attention to Sinatra's film career with great success. This work is both highly readable and extensively researched, providing an absorbing look at Sinatra's part-time career. Santopietro has crafted a straightforward appreciation of Sinatra's roles, his growth as an actor, and his personal and professional relationships with the men and women he worked on-screen with, thus producing a book that should guarantee a wide readership. This is the second book to be released this year about Sinatra's film work; Karen McNally's When Frankie Went to Hollywood more specifically counterpoints Sinatra's film roles with his influence on male identity in the 1940s and 1950s, and she presents a more academic approach both in content and in writing style. Taking a thorough interest in all of Sinatra's films, successful and
-Peter Thornell
or
Not Currently Available for Direct Purchase