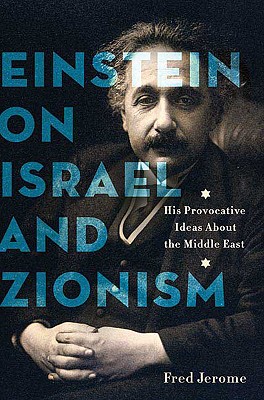 Einstein on Israel and Zionism
His Provocative Ideas About the Middle East
Hardcover

* Individual store prices may vary.
Description
Albert Einstein thought and wrote extensively not just on the most difficult problems in physics, but also in politics. For the first time, this book collects his essays, interviews, and letters on the Middle East, Zionism, and Arab-Jewish relations. Many of these have never been published in English, and all of them contradict the popular image of Einstein as pro-Zionist. He was offered and refused the Presidency of Israel, but had he taken it, he may have said things the Zionists didn't want to hear; he favored a non-religious state that would welcome Jew and Palestinian alike.
One person's letters, even Einstein's, cannot resolve the crisis in the Middle East, but decades later, when horrors of the conflict in the Middle East are familiar to everyone, the reflections of one of the twentieth century's greatest thinkers are a signpost, showing his commitment to social justice, understanding, and friendship between Jew and Arab.
Praise For Einstein on Israel and Zionism: His Provocative Ideas About the Middle East…
Praise for Einstein on Israel and Zionism:
"Einstein on Israel and Zionism is a welcome and necessary contribution to the discussions about the Middle East crisis. You do not have to be a genius in order to understand the gravity of the situation, but it is essential to listen to one, especially if his name was Einstein. His thoughts make for fascinating reading, allow us new insights into the mind of one of the 20th century's greatest thinkers and remind us that it is never too late."
-- Avraham Burg, author of The Holocaust is Over; We Must Rise From Its Ashes
"Reading the newly revealed correspondence in Fred Jerome's book makes it clear that Einstein was a social commentator and humanitarian with a world view worthy of his scientific genius. It's a pity that the Zionist movement as embodied in the State of Israel took a direction so divergent from the path advocated by the Jewish people's greatest intellect."
--Michael Palumbo, author of
The Palestinian Catastrophe
and
Imperial Israel
"Fred Jerome's Einstein on Israel and Zionism is a valuable and timely contribution. Einstein's views of Zionism were prescient. His actions regarding the establishment of a Jewish homeland in Palestine and his passionate beliefs regarding what that homeland should represent call for reconsideration by all Israelis and Palestinians and by all Jews and Muslims." --Silvan. S. Schweber, author of Einstein and Oppenheimer and In the Shadow of the Bomb
"Einstein on Israel makes a great contribution to the history of Jewish engagement with Israel. Reading Einstein's letters makes it clear that there has never been a Jewish consensus on the critical questions of Zionism and a Jewish state. While sadly it seems Einstein's fear that Israel would become a "captive of narrow nationalism" has been realized, his humanism and call for equal rights and equal power between Jews and Palestinians in Israel/Palestine remains an inspiration, and model, today."--Adam Horowitz, coeditor, Mondoweiss.net
"Albert Einstein is all-too often depicted as a naif about politics; he was anything but that. He followed international and national politics assiduously, corresponded with leaders and ordinary people, and brought a passionate moral stance to the whole--fighting anti-semitism, racism, fascism, and nationalism. In this volume, Fred Jerome has assembled a myriad of documents bearing on Einstein's views of Zionism. Telegrams, letters, magazine articles, interviews--all contribute to a dense and heartfelt analysis of what it would mean to avoid the pitfalls of dogmatic nationalism, and to create a Jewish homeland utterly respectful of Palestinian rights and equality. Of course Einstein's physics speaks to us still; astonishingly, we can still learn from his moral-political reflections." -- Peter Galison, author of Einstein's Clocks, Poincare's Maps and Image and Logic
St. Martin's Press, 9780312362287, 352pp.
Publication Date: May 26, 2009
About the Author
Fred Jerome is senior consultant to the Gene Media Forum, Newhouse School of Communications, Syracuse University. His articles and op-ed pieces have appeared in many publications including "Newsweek "and the" New York Times." As a reporter in the South during the early 1960s, he covered the exploding Civil Rights movement, and has taught journalism at Columbia and New York University.
or
Not Currently Available for Direct Purchase