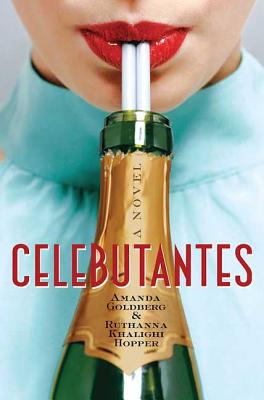 Celebutantes (Paperback)
A Novel
St. Martin's Griffin, 9780312362300, 320pp.
Publication Date: February 3, 2009
Other Editions of This Title:
Digital Audiobook (1/15/2008)
* Individual store prices may vary.
Description
Prepare to enter a world of what fashion designer Michael Kors has called "stylish intrigue, glamorous machinations, and such juicy fun." Take a wild ride with Amanda Goldberg and Ruthanna Hopper, who have culled their insider's purview to peel back Oscar's legendary curtain and reveal what really goes on under the sheets of Young Hollywood. Do Happy Hollywood Endings really exist, or does everyone end up on the cutting room floor sooner or later? It's a shocking, entertaining race to the end of the red carpet…
Twenty-six-year-old Lola Santisi, daughter of an Academy Award-winning mega-director and a former cover model, is Hollywood Royalty without a kingdom—or even a condo—to call her own. This "Actorholic," who also suffers from "Career Deficit Disorder," is looking for more from life than what her famous last name has offered, namely her mother's last-season Chanel hand-me-downs and the lurking shadow of her father's fame. In her latest gig as a Hollywood ambassador, Lola's stepping out of her Louboutins and into fashion's ultimate combat boots to engage in LA's cruelest blood sport: convincing celebrities to wear an unknown designer's gowns to the Oscars.
Providing advice, emotional support, and even a new mantra or two are her BFF (Best Friend Forever) Kate Woods, an obsessively ambitious talent agent desperate to go from unter to über, and her BAF (Best Actress Forever) Cricket Curtis, a struggling up-and-comer trying to surpass her role as a coma victim on Grey's Anatomy and overcome one rejection after another to become the next Cameron Diaz or Nicole Kidman, or the next anybody. Together, they dodge fashion roadkill while navigating General Motors' Annual Fashion Show, the Gagosian dinner at Mr. Chow, and more. Ultimately, the week culminates at the über-exclusive Vanity Fair Oscar party, where the allotted time slot on your invitation marks how far in or out you really are. But who will be left standing with job, heart, and stilettos still intact at the after-after-Oscar party?
About the Author
Amanda Goldberg is the daughter of film and TV producer Leonard Goldberg. She received her B.A. in English Literature and Art History at the University of Pennsylvania. She began her career working for fashion designer Todd Oldham in New York before returning to Hollywood to join her father's production company, where she was the associate producer on the blockbuster film Charlie's Angels. She is the co-author of the book Celebutantes.

Ruthanna Khalighi Hopper is Dennis Hopper's daughter. She received her B.A. in Art History at the University of California at Davis and studied theatre in New York City at William Esper. She started her career in production in New York and went on to produce and co-star with her father in the critically acclaimed independent film Americano. She currently resides high in the hills above HOLLYWEIRD.
Praise For Celebutantes: A Novel…
"New York has 'Bergdorf Blondes,' 'Sex and the City' and 'The Nanny Diaries.' And now L.A. has 'Celebutantes'..." —Los Angeles Times
"Witty and revealing... a walk-up to that blessed event: the Oscars. You'll feel like you were there." —People (3.5 stars)
"A frothy serving of chick lit... delectable." —Entertainment Weekly (A Summer Reading Must Paperback)
"A fast-paced satire of Hollywood's awards season in all its crazy glory." —New York Daily News
"A witty and humorous read that takes a revealing look at what really goes on inside the lives of young Hollywood." —Star Magazine
"Gawker.com meets Glamour in this insider's look at Oscar week penned by L.A. junior royalty….There's up-to-the-minute star chatter and fashion name-checking throughout." —Publishers Weekly
"A featherweight Tinseltown send-up with a surprisingly well-balanced heroine." —Kirkus
"A terrifying comedy of Hollywood royalty: Celebutantes proves that A-list vanities are still the preserve of the very beautiful, the very brave, or the very, very silly." —Plum Sykes, author of The Debutante Divorcee
"In Hollywood, Academy Awards week is a bigger deal than Christmas week is elsewhere. I've been attending for over thirty years, and the excitement and craziness has never abated. In Celebutantes, two daughters of Hollywood, Amanda Goldberg and Ruthanna Hopper, take us through the Oscar rituals of that mad and magical week with all the inside knowledge that they have grown up knowing. They are remarkably adroit and witty story tellers. Beneath the utter sophistication and gloriously natural name-dropping, there beats a very warm heart." —Dominick Dunne
"Stylish intrigue, glamorous machinations and such juicy fun. No one but Hollywood insiders like Amanda Goldberg and Ruthanna Hopper could tell the tale so perfectly." —Michael Kors
"A hilarious ride through the bumpy Hollywood Hills, complete with a trillion genius nuggets of true insider dish and a silver screen ending." —Jill Kargman, author of Momzillas
"Fashion, film stars and great fun—a young insider's view of Hollywood!"" —Anjelica Huston
"Celebutantes is a witty, incisive, under-the-sheets look at the chaos that is Oscar week. I loved it." —Jackie Collins
"An irreverent satire on Hollywood celebrity, delivered with a keen eye for the absurd, Celebutantes is a wise and witty page-turner." —Arianna Huffington
"Nothing is stranger than reality and the reality of Hollywood and our celebrity obsessed culture is brilliantly captured in Celebutantes. Amanda Goldberg and Ruthanna Hopper, both Hollywood insiders, use their wicked sense of humor and keen insight to craft a piercingly intelligent, funny and at times tragic satire of modern-day Hollywood. The authors simultaneously elevate the lives of the beautiful and the famous while also pointing out the emptiness and absurdity of contemporary values." —Tom Ford