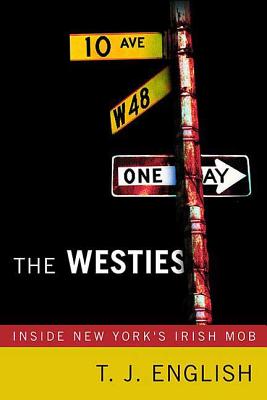 The Westies (Paperback)
Inside New York's Irish Mob
Griffin, 9780312362843, 400pp.
Publication Date: November 1, 2006
* Individual store prices may vary.
or
Not Currently Available for Direct Purchase
Description
Revised and updated, THE WESTIES is the classic, bestselling account from T.J. English of New York's notorious Westies gang, which ruled Hell's Kitchen in the 1960s, '70s and '80s--and which then-prosecutor Rudolph Giuliani called: "The most savage organization in the long history of New York street gangs."
Even among the Mob, the Westies were feared. Starting with a partnership between two sadistic thugs, Jimmy Coonan and Mickey Featherstone, the gang rose out of the inferno of Hell's Kitchen, a decaying tenderloin slice of New York City's West Side. They became the most notorious gang in the history of organized crime, excelling in extortion, numbers running, loan sharking, and drug peddling. Upping the ante on depravity, their specialty was execution by dismemberment. Though never numbering more than a dozen members, their reign lasted for almost twenty years--until their own violent natures got the best of them, precipitating a downfall that would become as infamous as their notorious ascension into the annals of crime.
About the Author
T.J. ENGLISH is a noted journalist, screenwriter and author of several books, including Paddy Whacked, Born to Kill (which was nominated for an Edgar Award), and the upcoming The Havana Mob. His first book, The Westies (a national bestseller and New York Times Notable Book), launched his career as an expert on the multi-ethnic nature of organized crime in America. A former writer for Irish America Magazine, English has also been published in Esquire, Playboy and New York magazine. He lives in New York City.
Praise For The Westies: Inside New York's Irish Mob…
"Must reading…will shock even the most hardened readers."
--Playboy "Sterling social history…the author's skillful reporting makes the most of his subject."
--The New Yorker
 
"Raw, earthy and heavily flavored with New York vernacular…[T.J. English] knows the people he writes about and never sets himself above them."--San Francisco Chronicle
 
"Masterfully told, gracefully written…the true story of the most violent men this nation has ever seen. Al Capone would have cringed…you want to cheer at he end…The Westies will blow you away."--Edna Buchanan, author of The Corpse Had  a Familiar Face
 
"Must reading… an investigative story about contract killers for the Mafia that will shock even the most hardened reader."--Playboy                                                                 
 
"A disquieting look at a worthwhile subject: the frailties of justice in the big city."
--The New York Times
 
"Stunning…a graphic account of brutality in search of power and money."--Ocala Star Banner
 
"A fascinating, frightening account of how bad kids turned worse, and how the worst one, finally turned good."--Booklist
 
"A fascinating look into an Irish American criminal enterprise that may not have rivaled the Mafia in sophistication, but certainly surpassed it in terror."--Wall Street Journal
 
"A fast-moving tale of criminal corruption in which, for a change, the good guys win…English pulls no punches."--L.A. Daily News
 
"Both compelling and unsettling…it's also chilling. You'll have a hard time putting it down."
--Rocky Mountain News
 
"A great yarn--English writes with a controlled lushness. He provides the detail of a detective's notebook."--Anniston Star
 
"Pure enjoyment…if you want to read a book about the 'Irish Mafia,' this is it."
--Vermont Standard
 
"A harrowing account of big city crime."--Library Journal
 
"Potent…what English has done is take organized crime as it really evolves and occurs on a human scale and then builds it back into an engrossing narrative. His book will stand."
--Irish America Magazine
 
"Reminiscent of Poe and Dostoyevsky in subject and character… at times as jolting as running on concrete on a cold winter morning."--New York Newsday
 
"As exciting as E.L. Doctorow's Billy Bathgate…the hardest part is trying to remember this isn't a novel; it's real."--Arkansas Gazette
Advertisement