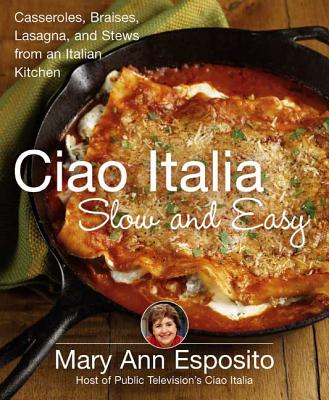 Ciao Italia Slow and Easy (Hardcover)
Casseroles, Braises, Lasagne, and Stews from an Italian Kitchen
St. Martin's Press, 9780312362928, 160pp.
Publication Date: November 13, 2007
* Individual store prices may vary.
Description
What could be welcoming in your kitchen than a big warm pan full of lasagna, a pot of braised short ribs or a casserole dish holding fragrant mussels, tomatoes and herbs? When you think of comfort food, the first cuisines that comes to mind is Italian.and nobody knows that better than Mary Ann Esposito, host of the longest-running television cooking show in the U.S., Ciao Italia. In Ciao Italia Slow and Easy, Mary Ann tells us how to slow down, take it easy and fill the kitchen with Italian slow-cooked goodness. By braising, baking, roasting and simmering, she gives readers a treasure trove of wonderful dishes like
-stove top lasagna with artichokes
-prosciutto-wrapped chicken baked in parchment
-tomato braised short ribs with rigatoni
-pasta shells stuffed with a ragu of pork and cream
-one-skillet chicken supper with tomatoes and green beans
-layered polenta pie with mushrooms and sausage
-mussel, potato and tomato casserole
Ciao Italia Slow and Easy is filled with Mary Ann's sensible advice, knowledgeable asides about the history of Italian cuisine and, most of all, a sure sense of what tastes good.
About the Author
Mary Ann Esposito is the host of the long-running PBS series Ciao Italia. She is the author of eleven successful cookbooks, including Ciao Italia Five-Ingredient Favorites, Ciao Italia Pronto!, and Ciao Italia Slow and Easy. She lives in Durham, New Hampshire, with her husband, Guy.
Praise For Ciao Italia Slow and Easy: Casseroles, Braises, Lasagne, and Stews from an Italian Kitchen…
"I learned to trust Mary Ann Esposito implicitly when I saw her prepare timballo di maccarun in person. I'd watched Stanley Tucci make it in "Big Night" – it was the super-duper macaroni casserole at the center of the big night's big meal – and I was duly entranced and at least a little intimidated. Mary Ann did it slowly and easily. It looked great and tasted even better. Amazingly, all of the recipes in "Ciao Italia" deliver the big flavor and satisfaction of Mary Ann's timballo. With "Ciao Italia Slow and Easy" there's no reason why every night can't be a big night." —Sara Moulton
"Mary Ann Esposito's new tome of slow cooked classics hits America right in the appetite with exactly what we are longing for and what we are missing. These spectacular, yet simple, recipes are easy to shop for, simple to prepare and give me a window of readiness that means everyone can always eat together, sharing a comforting kind of Italian cooking that says "grandma" in every language known to mankind's love of the absolutely delicious... Brava, Mary Ann!!!!!!!" —Mario Batali
"For years I've wondered why somebody hasn't produced a much-needed cookbook exploring Italy's many regional casseroles and stews. Now, finally, Mary Ann Esposito has more than filled the bill with this amazing collection of sumptuous but easy recipes that--at least for me--define the very heart of authentic Italian cooking. From a layered cornmeal pie with sausage and wild mushrooms, to a Sardinian mixed seafood cassola, to an utterly fascinating array of unusual pasta and fruit casseroles, the book is an exciting tour of no-nonsense Italian kitchens bursting with enticing aromas, succulent flavors, and, to be sure, lots of soul-warming cheer." —James Villas, author of Crazy for Casseroles
or
Not Currently Available for Direct Purchase