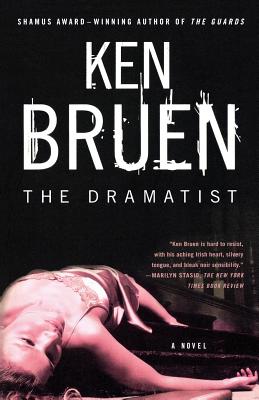 The Dramatist (Paperback)
Minotaur Books, 9780312363109, 242pp.
Publication Date: September 5, 2000
Description
Seems impossible, but Jack Taylor is sober---off booze, pills, powder, and nearly off cigarettes, too. The main reason he's been able to keep clean: his dealer's in jail, which leaves Jack without a source. When that dealer calls him to Dublin and asks a favor in the soiled, sordid visiting room of Mountjoy Prison, Jack wants to tell him to take a flying leap. But he doesn't, can't, because the dealer's sister is dead, and the guards have called it "death by misadventure."
The dealer knows that can't be true and begs Jack to have a look, check around, see what he can find out. It's exactly what Jack does, with varying levels of success, to make a living. But he's reluctant, maybe because of who's asking or maybe because of the bad feeling growing in his gut.
Never one to give in to bad feelings or common sense, Jack agrees to the favor, though he can't possibly know the shocking, deadly consequences he has set in motion. But he and everyone he holds dear will find out soon, sooner than anyone knows, in "The Dramatist," the lean and lethal fourth entry in Ken Bruen's award-winning Jack Taylor series.
About the Author
Ken Bruen has been a finalist for the Egar, Anthony, and Barry Awards, and has won a Macavity Award and a Shamus Award for the Jack Taylor series. Several of Bruen's novels have been adapted for the screen: The first six Jack Taylor novels were adapted into a television series starring Iain Glen; Blitz was adapted into a movie starring Jason Statham; and London Boulevard was adapted into a film starring Colin Farrell and Keira Knightley. Bruen lives in Galway, Ireland.
Praise For The Dramatist…
"Ken Bruen is hard to resist, with his aching Irish heart, silvery tongue and bleak noir sensibility…[Bruen] writes with extraordinary delicacy about a man driven to acts of violence out of wild grief and fierce sense of guilt."--Marilyn Stasio, The New York Times Book Review

"[Bruen's] Jack Taylor series is Grade-A Galway Noir…Bruen provides an insightful tour of a fast-changing Ireland" --Richard Lipez, The Washington Post

"Bruen's tommy-gun prose, lacerating dialogue and hard-boiled world view combine here, as before, to provide entertainment of high order in dealing with low instincts. Forget all gauzy notions of the Emerald Isle--this stuff is black Irish." --Ron Givens, New York Daily News

"Bruen's books are always well worth the effort."--Harper Barnes, The St. Louis Post-Dispatch

"It's Taylor himself, dangerous, disgraced cop, that we want to read about.…If you haven't discovered Bruen yet, what are you waiting for?" --Jane Dickinson, Rocky Mountain News

"You'll want to pray at the stunning conclusions of The Dramatist…Bruen's talent shines."--Michelle Ross, Cleveland Plain Dealer

"The same great mix of curmudgeonly observations and unpredictable cultural references that has won Bruen a devoted cadre of fans." --Booklist

"There is a darkness about Bruen's Ireland that never lifts. The spare writing is brutal in its depiction of modern depression, social malaise, and total lack of hope." --Library Journal
Advertisement