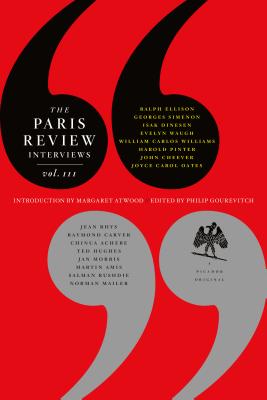 The Paris Review Interviews, Vol. III (Paperback)
Picador USA, 9780312363154, 446pp.
Publication Date: October 28, 2008
* Individual store prices may vary.
or
Not Currently Available for Direct Purchase
Description
"I have all the copies of "The Paris Re"view and like the interviews very much. They will make a good book when collected and that will be very good for the "Review.""--Ernest Hemingway
Since "The Paris Review "was founded in 1953, it has given us invaluable conversations with the greatest writers of our age, vivid self-portraits that are themselves works of finely crafted literature. From Salman Rushdie's daring rhetorical question "why shouldn't literature provoke?" to Joyce Carol Oates's thrilling comments about her own prolific output, "The Paris Review "has elicited revelatory and revealing thoughts from our most accomplished novelists, poets, and playwrights. How did Geroges Simenon manage to write about six books a year, what was it like for Jan Morris to write as both a man and a woman, what influences moved Ralph Ellison to write "Invisible Man"? In the pages of "The Paris Review," writers give more than simple answers, they offer uncommon candor, depth, and wit in interviews that have become the gold standard of the literary Q&A. With an introduction by Margaret Atwood, this volume brings together another rich, varied crop of literary voices, including Martin Amis, Norman Mailer, Raymond Carver, John Cheever, Harold Pinter, and more. "A colossal literary event," as Gary Shteyngart put it, "The Paris Review Interviews, III," is an indespensible teasure of wisdom from the world's literary masters.
About the Author
The Paris Review has published early and important work by Philip Roth, V. S. Naipaul, Jeffrey Eugenides, A. S. Byatt, T. C. Boyle, William T. Vollmann, and many other great writers of the past half century. Some of the magazine's greatest hits have been collected by Picador in The Paris Review Book of People with Problems as well as The Paris Review Book for Planes, Trains, Elevators, and Waiting Rooms and The Paris Review Book of Heartbreak, Madness, Sex, Love, Betrayal, Outsiders, Intoxication, War, Whimsy, Horrors, God, Death, Dinner, Baseball, Travels, the Art of Writing, and Everything Else in the World Since 1953.Philip Gourevitch was named editor of The Paris Review in 2005, succeeding George Plimpton, who was editor from 1953 until his death in 2003. Margaret Atwood has won the Booker Prize, the Giller Prize, and the Governor General's Award, among many other honors. She is the author of more than twenty-five books, and lives in Toronto.
Praise For The Paris Review Interviews, Vol. III…
"The Paris Review books should be given out at dinner parties, readings, riots, weddings, galas -- shindigs of every shape. And they're perfect for the classroom too, from high schools all the way to MFA programs. In fact, I run a whole semester-long creative writing class based on the interviews. How else would I get the world's greatest living writers, living and dead, to come into the classroom with their words of wisdom, folly and fury? These books are wonderful, provocative, indispensible."--Colum McCann, novelist and Hunter College professor
"The most remarkable and extensive interviewing project we possess. . . . A series of excursions, alternately purposeful and capricious, with side trips, stops for tea, and mystifications."--The New York Times
 
"A small treasure. The interviews are literary landmarks, and the gossip, humor, ideas, and practical advice dispensed are bracing."--San Francisco Chronicle
 
"Utterly absorbing . . . The interviews are all fascinating and often quite funny."--The Boston Globe 
"Groundbreaking, eclectic, indispensable Q&As."--Elle


"The unguarded moment . . . that's the holy grail for any interviewer trying to discover what makes a writer tick. The Paris Review has a long history of delivering such moments in the author interviews it has conducted over the past half century."--
The Seattle Times
"As The Paris Review Interviews reveals, there is an art to the interview and a value to what it brings. . . . In the best interviews, the exchange of question and answer brings the authors to life."--The Wall Street Journal

"Fascinating interviews . . . [The subjects] discuss their writing and methods with detail and candidness found nowhere else. While lit fans will undoubtedly be satisfied, aspiring authors will glean tremendous insight from these masters of the craft."--The Plain Dealer (Cleveland)


"A stimulating, funny, and provocative snapshot of five decades' worth of (mostly) American literary history . . . The resulting conversations are luminous and often revelatory."--Minneapolis Star-Tribune
"Fascinating . . . This book will intrigue and delight any serious reader or writer. It may even inspire."--The Times Literary Supplement (London)
"Here is a canon of great minds. . . . A fascinating attempt at getting to the heart of how writers work."--Financial Times (London)
Advertisement