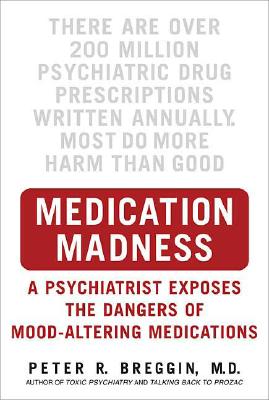 Medication Madness: A Psychiatrist Exposes the Dangers of Mood-Altering Medications (Hardcover)
A Psychiatrist Exposes the Dangers of Mood-Altering Medications
St. Martin's Press, 9780312363383, 400pp.
Publication Date: July 8, 2008
* Individual store prices may vary.
or
Not Currently Available for Direct Purchase
Description
Medications for everything from depression and anxiety to ADHD and insomnia are being prescribed in alarming numbers across the country, but the "cure" is often worse than the original problem. Medication Madness is a fascinating, frightening, and dramatic look at the role that psychiatric medications have played in fifty cases of suicide, murder, and other violent, criminal, and bizarre behaviors.
As a psychiatrist who believes in holding people responsible for their conduct, the weight of scientific evidence and years of clinical experience eventually convinced Dr. Breggin that psychiatric drugs frequently cause individuals to lose their judgment and their ability to control their emotions and actions. Medication Madness raises and examines the issues surrounding personal responsibility when behavior seems driven by drug-induced adverse reactions and intoxication.
Dr. Breggin personally evaluated the cases in the book in his role as a treating psychiatrist, consultant or medical expert. He interviewed survivors and witnesses, and reviewed extensive medical, occupational, educational and police records. The great majority of individuals lived exemplary lives and committed no criminal or bizarre actions prior to taking the psychiatric medications.
Medication Madness reads like a medical thriller, true crime story, and courtroom drama; but it is firmly based in the latest scientific research and dozens of case studies. The lives of the children and adults in these stories, as well as the lives of their families and their victims, were thrown into turmoil and sometimes destroyed by the unanticipated effects of psychiatric drugs. In some cases our entire society was transformed by the tragic outcomes.
Many categories of psychiatric drugs can cause potentially horrendous reactions.
Prozac, Paxil, Zoloft, Adderall, Ritalin, Concerta, Xanax, lithium, Zyprexa and other psychiatric medications may spellbind patients into believing they are improved when too often they are becoming worse. Psychiatric drugs drive some people into psychosis, mania, depression, suicide, agitation, compulsive violence and loss of self-control without the individuals realizing that their medications have deformed their way of thinking and feeling.
This book documents how the FDA, the medical establishment and the pharmaceutical industry have over-sold the value of psychiatric drugs. It serves as a cautionary tale about our reliance on potentially dangerous psychoactive chemicals to relieve our emotional problems and provides a positive approach to taking personal charge of our lives.
About the Author
Peter R. Breggin, M.D., is a psychiatrist and expert in clinical psychopharmacology. He has been in private practice for four decades and has written dozens of scientific articles and more than twenty books, including "Toxic Psychiatry," "Talking Back to Prozac," and "Brain-Disabling Treatments in Psychiatry." He has served as a medical expert in many criminal and civil cases, including product-liability suits against the manufacturers of such psychiatric drugs as Prozac, Paxil, Zoloft, Xanax, Ritalin, Risperdal and Zyprexa. Over the past twenty-five years, many of Dr. Breggin's initially controversial observations on the harmfulness of psychiatric drugs to the brain and mind have been confirmed by the FDA and by other scientists.Harvard-trained and a former full-time consultant at NIMH, Dr. Breggin founded the International Center for the Study of Psychiatry (ICSPP.org) and is on the editorial boards of several scientific journals. He has taught at numerous universities including Johns Hopkins and George Mason and is a Life Member of the American Psychiatric Association. Dr. Breggin's views have been widely covered in the media including the "New York Times," "The""Wall Street Journal," "Time" and "Newsweek" and he has been interviewed on Oprah, Larry King Live, Nightline, Hannity and Colmes, 20/20 and 60 Minutes. He lives in the Finger Lakes Region with his wife Ginger and practices psychiatry in Ithaca, New York.
Advertisement