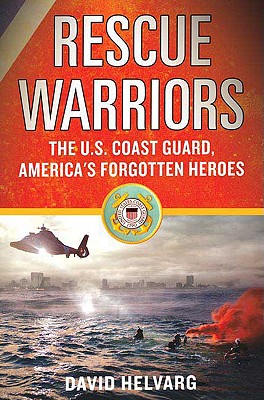 Rescue Warriors: The U.S. Coast Guard, America's Forgotten Heroes (Hardcover)
The U.S. Coast Guard, America's Forgotten Heroes
Thomas Dunne Books, 9780312363727, 384pp.
Publication Date: May 12, 2009
* Individual store prices may vary.
or
Not Currently Available for Direct Purchase
Description
Since its founding more than two hundred years ago, the United States Coast Guard has rescued over a million people. On any given day, "Coasties" respond to 125 distress calls and save over a dozen lives. Yet despite having more than 50,000 active-duty and reserve members on every ocean and on our nation's coasts, great lakes, and rivers, most of us know very little about this often neglected but crucial branch of the military.

In Rescue Warriors, award-winning journalist David Helvarg brings us into the daily lives of Coasties, filled with a salty maritime mix of altruism and adrenaline, as well as dozens of death-defying rescues at sea and on hurricane-ravaged shores.

Helvarg spent two years with the men and women of the Coast Guard, from the halls of their academy in New London, Connecticut, to the frigid, storm-tossed waters of Alaska's Bering Sea, to the northern Persian Gulf, where they currently guard Iraqi oil terminals. The result is a masterpiece of adventure reporting---the definitive book on America's "forgotten heroes."
About the Author
DAVID HELVARG is founder and president of the Blue Frontier Campaign, a Washington, D.C.--based organization working for ocean and coastal conservation. An award-winning journalist, he has written for "The New York Times," the "Los Angeles Times," "Smithsonian," "Popular Science," "Sierra," ""and "The Nation," and has produced more than forty documentaries for PBS, the Discovery Channel, and others. He is also a licensed private investigator, body surfer, and scuba diver. His previous books include "The War Against the Greens," "Blue Frontier," and "50 Ways to Save the Ocean." He lives in the San Francisco Bay Area.
Praise For Rescue Warriors: The U.S. Coast Guard, America's Forgotten Heroes…
Advance Praise for Rescue Warriors:
"David Helvarg's terrific new book takes you to the cutting edge of adventure as he rides along with the men and women of the U.S. Coast Guard. This in-depth and lively look at the history and changing missions of America's 'Rescue Warriors,' should be considered a must-read for anyone who loves the water or cares about the safety, security and stewardship of our nation from sea to shining sea."
--Robert Kennedy Jr.

"They say that 'I'm from the government and I'm here to help' is the ultimate oxymoron. But as this vivid book makes powerfully clear, in the case of the Coast Guard it's the simple truth. Stow this volume next to the chart case."
--Bill McKibben, author of Deep Economy


Praise for David Helvarg's Blue Frontier

"A vivid tapestry of an America interwoven with the sea." --San Jose Mercury News
"[Helvarg] takes us on the ultimate wave, cresting and carrying us at breakneck speed. It's a fast, watery ride, and you're going to get wet before it's over." --Los Angeles Times, Best Books of 2001
"Helvarg writes with humor, compassion, concern, and a keen eye for fascinating detail. Pick up Blue Frontier and you won't be able to put it down."
--Paul R. Ehrlich, author of Science of Ecology and The End of Affluence
Advertisement