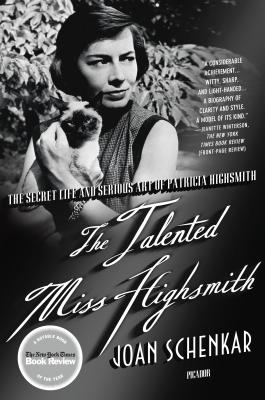 The Talented Miss Highsmith
The Secret Life and Serious Art of Patricia Highsmith
Paperback

* Individual store prices may vary.
Other Editions of This Title:
Hardcover (12/8/2009)
Description
Patricia Highsmith's The Price of Salt is now a major motion picture (Carol) starring Cate Blanchett and Mia Wasikowska, directed by Todd Hayes

A 2010 New York Times Notable Book
A 2010 Lambda Literary Award Winner
A 2009 Edgar Award Nominee
A 2009 Agatha Award Nominee
A Publishers Weekly Pick of the Week

Patricia Highsmith, one of the great writers of twentieth-century American fiction, had a life as darkly compelling as that of her favorite "hero-criminal," the talented Tom Ripley. Joan Schenkar maps out this richly bizarre life from her birth in Texas to Hitchcock's filming of her first novel, Strangers on a Train, to her long, strange self-exile in Europe. We see her as a secret writer for the comics, a brilliant creator of disturbing fictions, and an erotic predator with dozens of women (and a few good men) on her love list. The Talented Miss Highsmith is the first literary biography with access to Highsmith's whole story: her closest friends, her oeuvre, her archives. It's a compulsive page-turner unlike any other, a book worthy of Highsmith herself.
Praise For The Talented Miss Highsmith: The Secret Life and Serious Art of Patricia Highsmith…
"Schenkar has a wonderfully bold approach: not worrying about a linear chronology (although this is meticulously supplied in the appendices), but choosing instead to follow the emotional water course of Highsmith's life, allowing her subject to find her own level -- to be tidal, sullen, to flow without check, so that events in one decade naturally make an imaginative tributary into turbulence before and after. Schenkar's writing is witty, sharp and light-handed, a considerable achievement given the immense detail of this biography. Highsmith was a detail junkie. Schenkar's nonlinear organizing method was a brilliant idea to save herself -- and the reader -- from data overload. This is a biography of clarity and style. A model of its kind. " —Jeanette Winterson, The New York Times Book Review; cover review

"This is no ordinary biography...[Ms. Schenkar] writes with great authority and perverse affection...'The Talented Miss Highsmith' breaks much ground in connecting Highsmith's diabolical tales with the real women who prompted her strongest passions ....In addition to its impressive sweep, this biography also values minutiae. An exacting inventory of the contents of Highsmith's office captures every mundane object, right down to the goat's bell and the Wite-Out pencil. Highsmith loved details like that. And Ms. Schenkar shows an uncannily keen grasp of Highsmith's spirit. " —Janet Maslin, The New York Times

"Throughout nearly 700 pages of lustrous text, Schenkar's prose is as supple and shapely as Highsmith's was flat and functional. "The Talented Miss Highsmith" is both dazzling and definitive ... Its scope and scholarship are unassailable, and its vigor indefatigable. t's a volume as original as its contemptible, miserable, irresistible subject." —Daniel Mallory, Los Angeles Times

"Ms. Schenkar provides a vivid, disturbing portrait of a writer whose work--thanks to some virtuosic movie-making--is known more as source material than as literary art in its own right... It is hard to imagine a more thoroughly fact-filled or energetic biography than "The Talented Miss Highsmith" or one more determined to examine the deepest recesses of its complicated subject." —Alexander Theroux, The Wall Street Journal

"[A] biography that captures the writer in all her sullen, sinister, ambivalent glory. Grade: A" —Entertainment Weekly

"What most impresses me with Schenkar's approach is its boldness: she casts aside chronology to get at the themes of her heroine's character, and she conjures those themes by unabashedly connecting the events of Highsmith's life to her work. So we get marvellous formulations like this: 'Pat thought about love the way she thought about murder: as an emotional urgency between two people, one of whom dies in the act.' Much of Highsmith's work remains little known by the general reading public, and the details of her fascinating life obscure, Schenkar's book should serve as a corrective. We plan on delving into some Highsmith books we haven't read (I've just begun "The Price of Salt" and Jon is tackling Ripley), and we hope you'll approach this month's pick in a similar way--as an invitation to learning more about the work of, as Schenkar puts it, 'Her High Darkness, Patricia Highsmith: author of some of the twentieth century's most dangerous fictions.'" —Macy Halford, The New Yorker Online Book Club: Book of the Month

"Schenkar's fascinating biography portrays Highsmith as driven by obsessions, especially her love-hate relationship with her mother, and a yin-yang ambivalence that became a central main theme in her writings ... The catalyst for Schenkar's exhaustive, compelling work, which boasts copious end notes, maps, charts, diagrams, bibliography, and chronology, was the recent unearthing of 8,000 pages of Highsmith's secret journals. The result is an essential, scholarly, lesbian, and literary biography." —Booklist

"A comprehensive, nuanced evaluation of Highsmith Country." —Kirkus Reviews

"VERDICT: An imaginative, definitive Highsmith biography, great for literature students, Highsmith fans, and mystery readers." —Library Journal

"Joan Schenkar is the first writer to grapple with Patricia Highsmith on every level of her being, from her bizarre personal life to her incredibly prolific writing life. It's hard to avoid superlatives when describing Schenkar's biography, but there doesn't seem to be any other way to go about it." —Deirdre Bair, winner of the National Book Award for Samuel Beckett: a Biography

"This is an epic biography - vivid with Joan Schenkar's concern for her subject - the mercurial, gifted, fascinating mystery novelist Patricia Highsmith. Schenkar is an inexhaustible researcher and meticulous cultural historian, especially in the hidden pan-sexual world of literary New York of the 40s and 50s. She has a remarkable ability to evoke landscapes, relationships and, above all, a myriad of personal details from the fountain pen Highsmith used to the amount of alcohol she drank to the women she loved (and lost) all the while telling us how Highsmith concocted masterpieces like Strangers on a Train and The Talented Mr. Ripley. This is a big book, an awesome achievement. " —Patricia Bosworth, author of Diane Arbus: a Biography

"Patricia Highsmith is a fascinating and bizarre figure, and a tremendous challenge for the biographer who has to account for her alcoholism, lesbianism, negativism, criminal tendencies, huge talent and much else. Joan Schenkar has accomplished this amazing feat with a really smart book. " —Diane Johnson, critic and novelist, author of Lulu in Marrakech

"I was enthralled by The Talented Miss Highsmith. It's a brilliant biography, so finely judged in its critical appreciation of Pat's work, wonderfully informative about its sources and inspiration, and both enlightening and harrowing in its revelation of her tormented personality and darkly troubled yet (because of her exceptional talent) in some ways triumphant life. " —Francis Wyndham, critic, editor, winner of the Whitbread First Novel Award forThe Other Garden
Picador, 9780312363819, 704pp.
Publication Date: January 4, 2011
About the Author
Joan Schenkar (1942-2021) was a playwright of experimental works and the renowned biographer of Patricia Highsmith, the controversial author of The Talented Mr. Ripley, and Dolly Wilde, Oscar Wilde's niece. Her books include the Lambda Literary Award Winner, The Talented Miss Highsmith: The Secret Life and Serious Art of Patricia Highsmith, Truly Wilde: The Unsettling Story of Dolly Wilde, and a collection of plays, Signs of Life: 6 Comedies of Menace.