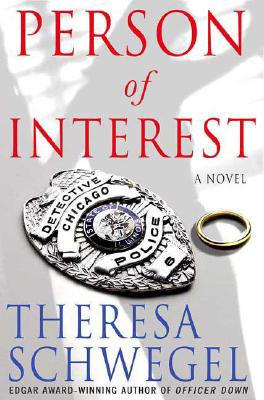 Person of Interest (Hardcover)
Minotaur Books, 9780312364267, 384pp.
Publication Date: November 27, 2007
* Individual store prices may vary.
or
Not Currently Available for Direct Purchase
Description
Leslie McHugh is married to an undercover cop. She thinks she knows what it's like to share her life with a man who spends his days living a lie, who keeps secrets for a living, who trusts no one, not even her. She can see the pressure, the fear, the pent-up rage, and, worst of all, the distance growing between them that Craig promised he'd never allow. But what does she really know? Lonely, tired, and starting to drink too much, she knows that their marriage is on the rocks because her husband lives a second life she knows almost nothing about.
When a thousand dollars disappears from their bank account, she wants answers, but before she can even ask the questions, their seventeen-year-old daughter, a real cop's kid already on a collision course with trouble, turns up at the center of Craig's investigation into a snitch's violent death. Leslie's had enough; she's determined to get to the truth and protect her family---no matter what the cost.
Again and again, Edgar Award winner Theresa Schwegel shows a remarkable ability to get inside a cop's world---both at the precinct house and at home---making Person of Interest some of the most compelling crime fiction in bookstores today.
About the Author
Theresa Schwegel was born and raised in Chicago, Illinois. A Loyola University graduate, she received an MFA in screenwriting at Chapman University. Her first novel, "Officer Down, " won the Edgar Award for Best First Novel and was shortlisted for the Anthony Award. She now lives in Los Angeles, California.
Praise For Person of Interest…
Praise for Probable Cause
"Schwegel spins a taut and muscular tale that explores the dark side of law enforcement. The cast is convincing, the suspense is unrelenting, the result is top-flight entertainment."
---The San Diego Union-Tribune
"While Schwegel skillfully tightens the plot screws . . . she also has fun riding with the cops through the best and worst of Chicago's neighborhoods."
---The New York Times Book Review
"Convincing local color and the winning depiction of Weiss . . . the twenty-three-year-old's bright future in the genre seems inevitable. . . . A solidly written coming-of-age tale with an endearing and believable hero."
---Kirkus Reviews (starred review)
Praise for Office Down
"An excellent choice for contemporary noir fans."
---The Baltimore Sun
"[Schwegel's] impressive first mystery . . . catches the flavor of the city in endearing ways. . . . Schwegel, who writes about police work with authority, has also created a tough and original character."
---Chicago Tribune
"Readers at last can enjoy a tough-gal yarn with heaps of moral ambiguity and good guys gone bad. . . . [Samantha] Mack isn't your average cop."
---San Francisco Chronicle
Advertisement