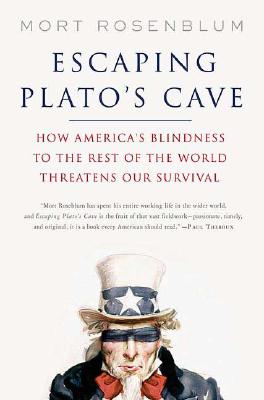 Escaping Plato's Cave: How America's Blindness to the Rest of the World Threatens Our Survival (Hardcover)
How America's Blindness to the Rest of the World Threatens Our Survival
St. Martin's Press, 9780312364403, 288pp.
Publication Date: October 2, 2007
* Individual store prices may vary.
or
Not Currently Available for Direct Purchase
Description
Cave Blindness

Like Plato's cave-dwellers who only saw inaccurate reflections of reality on the wall, America has been blinded to dangerous realities inside and outside our borders, argues award-winning journalist Mort Rosenblum. Our ignorance is not just deplorable, it is literally killing us--and others.

Rosenblum--who has reported from more than one hundred countries, many of which he has outlived--explains how we all can and must learn more about what's really happening in the Middle East, Europe, Africa, Asia, Latin America, in matters of war, peace, business, the environment, and education.

This cri de coeur by one of our planet's most eloquent journalists is a must-read for anyone concerned about what they don't see in the newspaper or on TV. It offers both insight and practical ways for Americans to get out of the cave and see what's really going on around us.
About the Author
Mort Rosenblum was an Associated Press foreign correspondent for nearly forty years until 2004, covering coups, earthquakes, wars, and everything else in more than one hundred countries. He was editor of the "International Herald Tribune" from 1979 to1981. He has written twelve books and has been nominated for the Pulitzer Prize eight times. He splits his time between a boat on the Seine in Paris and an olive farm in the south of France. Please visit his Web sites at www.mortrosenblum.net and www.escapingplatoscave.com.
Praise For Escaping Plato's Cave: How America's Blindness to the Rest of the World Threatens Our Survival…
"Mort Rosenblum has spent his entire working life in the wider world, and "Escaping Plato's Cave" is the fruit of that vast fieldwork--passionate, timely, and original, it is a book every American should read."
--Paul Theroux
Advertisement