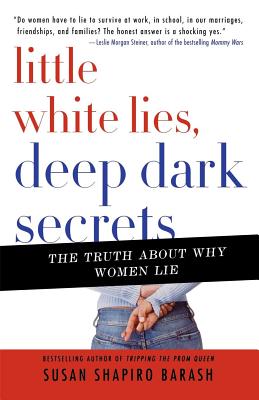 Little White Lies, Deep Dark Secrets
The Truth About Why Women Lie
Paperback

* Individual store prices may vary.
Description
From the bestselling author of Tripping the Prom Queen comes a fascinating and provocative look at the reasons behind female deception. Little White Lies, Deep Dark Secrets reveals how society doles out mixed messages to women, fostering the lies they tell. Among the liars are:

•A woman who shoplifts, and has it "down to a science"

•A woman who tells her husband she is working late in order to be with her lover

•A woman who lies about her children's achievements to her friends

•A woman who pretends her husband is doing well when they are going broke

•A woman who has covered up her husband's emotional abuse for years

•A woman whose secret is her misery in being a stay-at-home mom in suburbia

•A woman who lies about loving her partner, deciding it's better to stay than be alone

•And many other secrets and deceptions

Honest and even outrageous, Susan Shapiro Barash is fast becoming the author who explores issues that are important to women—issues that they are loath to talk about . . . until now.
Praise For Little White Lies, Deep Dark Secrets: The Truth About Why Women Lie…
"Do women have to lie to survive at work, in school, in our marriages, friendships, and families? The honest answer is a shocking yes." —Leslie Morgan Steiner, editor of the bestselling Mommy Wars

"Susan Shapiro Barash has "taken a gutsy look at a controversial subject, one that most women would rather not discuss. By shedding light on the reasons behind our secrets and lies, she will give women more choices about how they approach the sensitive areas of their lives." —Liz Perle, author of Money, A Memoir

"Finally! The lies women tell have been de-coded. Little White Lies, Deep Dark Secrets: The Truth About Women and Deception has taken me on an eye opening journey into the lies my own mother told me as a child making me realize the most innocent of untruths can have a lifelong impact." —Crystal McCrary Anthony, author of The Gotham Diaries
St. Martin's Griffin, 9780312364465, 304pp.
Publication Date: January 6, 2009
About the Author
SUSAN SHAPIRO BARASH is an established writer of nonfiction women's issue books and has written more than a dozen books, including The Nine Phases of Marriage; Toxic Friends; Little White Lies, Deep Dark Secrets and Tripping the Prom Queen. She teaches gender studies at Marymount Manhattan College. A well-recognized gender expert, she is frequently sought out by newspapers, televisions shows, and radio programs to comment on women's issues. She also blogs for The Huffington Post and Psychology Today. She lives in New York City.