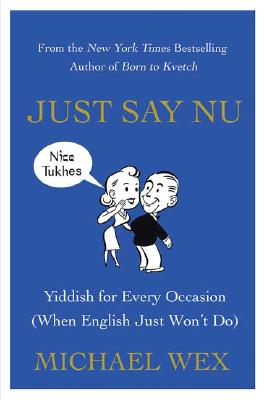 Just Say Nu (Hardcover)
Yiddish for Every Occasion (When English Just Won't Do)
St. Martin's Press, 9780312364625, 320pp.
Publication Date: October 16, 2007
Other Editions of This Title:
Paperback (9/9/2008)
Compact Disc (10/16/2007)
* Individual store prices may vary.
Description
A cross between Henry Beard's Latin for All Occasions and Ben Schott's Schott's Original Miscellany, JUST SAY NU is a practical guide to using Yiddish words and expressions in day-to-day situations. Along with enough grammar to enable readers to put together a comprehensible sentence and avoid embarrassing mistakes, Wex also explains the five most useful Yiddish words–shoyn, nu, epes, takeh,and nebakh–what they mean, how and when to use them, and how they can be used to conduct an entire conversation without anybody ever suspecting that the reader doesn't have the vaguest idea of what anyone is actually saying. Readers will learn how to shmooze their way through such activities as meeting and greeting; eating and drinking; praising and finding fault; maintaining personal hygiene; going to the doctor; driving; parenting; getting horoscopes; committing crimes; going to singles bars; having sex; talking politics and talking trash.Now that Stephen Colbert, a Catholic from South Carolina and host of the "Colbert Report," is using Yiddish to wish viewers a bright and happy Chanukah, people have finally started to realize that there's nothing in the world that can't be improved by translating it into Yiddish. Wex's JUST SAY NU is the book that's going to show them how.
About the Author
MICHAEL WEX is a novelist, professor, translator (including the only Yiddish translation of The Threepenny Opera), lecturer, and performer (of stand-up and one person shows). Wex has been hailed as "a Yiddish national treasure" and is one of the leading lights in the current revival of Yiddish, lecturing widely on Yiddish and Jewish culture. He lives in Toronto.
Praise For Just Say Nu: Yiddish for Every Occasion (When English Just Won't Do)…
Praise for JUST SAY NU: "With verve, élan and something only a non-Yiddish speaker would call chutzpah, Michael Wex returns to the linguistic mother lode that yielded Born to Kvetch, his brilliant cultural history of Yiddish. This time around in Just Say Nu, he gets down to the everyday business of putting Yiddish to use."
--NY Times
"This is not your bubbe's—or Leo Rosten's—Yiddish. Translator, novelist and performer Wex follows his witty and erudite Born to Kvetch with a colorful, uncensored guide to the idiomatic, use of Yiddish in such areas as "madness, fury and driving." Wex's advice on the complex usage of these words can help even the greenest Yiddish speaker."
--Publisher's Weekly
Praise for BORN TO KVETCH:
"This treasure trove of linguistics, sociology, history and folklore offers a fascinating look at how, through the centuries, a unique and enduring language has reflected an equally unique and enduring culture."
–
Publishers Weekly
"Wise, witty and altogether wonderful…Mr. Wex has perfect pitch." –William Grimes,
The New York Times
"All the wonderful elements of Yiddish language and culture are represented here. Highly recommended" –
Library Journal
"A great read for those who know and love Yiddish, and those who just drop the occasional 'schmuck' into the conversation." –
New York Press
or
Not Currently Available for Direct Purchase