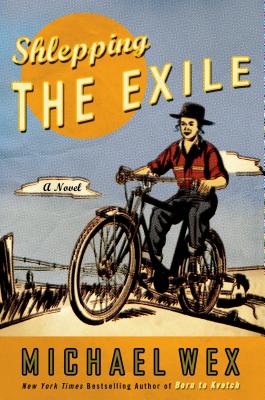 Shlepping the Exile (Hardcover)
St. Martin's Press, 9780312364632, 216pp.
Publication Date: February 18, 2014
* Individual store prices may vary.
or
Not Currently Available for Direct Purchase
Description
Svelte and supple as unleavened bread, "Shlepping the Exile" rends the shmaltz from Jewish fiction and replaces it with a pound of real flesh.
It's the story of Yoine Levkes, a hassidic boy of the Canadian prairies, his refugee parents, and the Jewish community of Coalbanks, Alberta in the late 1950s. Confronted with dying people, an ailing culture, the perils of near-orphanhood and the allures of Sabina Mandelbroit, whose family doesn't keep the Sabbath, Yoine can no longer tell whether he's a human being or a loot-bag of conflicting traditions. He's too religious to be 'normal, ' too 'normal' not to realize this, and too much of a kid to be able to make any sense of it.
"Shlepping the Exile "is Michael Wex's inside portrait of orthodox, post-Holocaust Judaism in a place that it never expected to be.
About the Author
MICHAEL WEX was born in Lethbridge, Alberta and later moved to Toronto. Wex is the author of two other works of fiction, The Adventures of Micah Mushmelon, Boy Talmudist, and The Frumkiss Family Business and three works of non-fiction: Born to Kvetch; Just Say Nu; and How to Be a Mensch (and Not a Shmuck). He is also well known as a speaker on matters relating to Yiddish language and culture and more general aspects of Judaism. He lives in Toronto with his wife and daughter.
Praise For Shlepping the Exile…
"Yoine is smart—smarter, really, than a character of his age and demeanor has any right to be, but it's his quick-witted running commentary that carries the novel . . .Wex [excels] at building incongruous characters who demonstrate the counterintuitive complexities of Jewish life. . . Wex's humorous writing is crisp." --Kirkus

"Shlepping the Exile is a funny, often poignant, presentation of Jewish life in a place with few Jews, and of a young boy navigating that place and time with eyes that are open much wider than his parents had ever imagined. Wex captures it all with wit and with great authenticity." –Ottawa Jewish Bulletin

"Partly old world, partly new, born to parents who have lost virtually everything, Yoine is an appealing creation." –Publishers Weekly
Advertisement