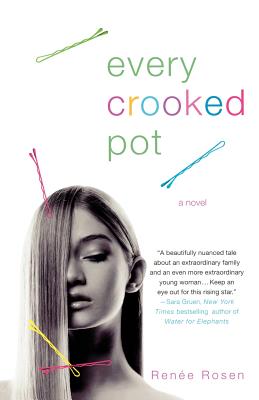 Every Crooked Pot (Paperback)
A novel
St. Martin's Griffin, 9780312365431, 240pp.
Publication Date: June 26, 2007
Other Editions of This Title:
Paperback (3/1/2010)
* Individual store prices may vary.
Description
In her heart, Nina Goldman knows that beauty is only skin deep. But as a teenager growing up in Akron, Ohio – with her larger-than-life father Artie, a colorblind carpet salesman and frustrated musician – the only thing Nina wishes for is…to be beautiful. Or at least normal. As if having such an eccentric dad wasn't enough, Nina has another issue to face: the mirror. Born with a strawberry birthmark over her eye, Nina spends countless hours applying makeup and trying out ridiculous hairstyles designed to hide her eye. Convinced that her birthmark is the only reason she's not popular and can't find a boyfriend, Nina must find other ways to survive high school. With a string of crazy exploits that have her riding in dryers and appearing on TV, Nina proves she'll do just about anything to fit in, and even more in the hope of finding love.
About the Author
Renée Rosen grew up in Akron, Ohio and now lives in Chicago.  She is the author of the novoel Every Crooked Pot currently at work on a new novel.
Praise For Every Crooked Pot: A novel…
"Every Crooked Pot is a beautifully nuanced tale about an extraordinary family and even more extraordinary young woman. Not since Myla Goldberg's Bee Season has a first novel so deftly captured the complexities, joys, and frustrations of daughters and their families. It's hard to believe this is a debut – Rosen's voice is already as good as it gets. Keep an eye out for this rising star." —Sara Gruen, New York Times bestselling author of Water for Elephants
"Every Crooked Pot is a funny, heartfelt, and beautifully perceptive novel. In her insightful character study, Renée Rosen takes the reader deep inside the heart and mind of a delightfully real protagonist. In her spirited portrayal of an ordinary – yet improbable – American family, Rosen illuminates great unspoken truths about young women, about daughters, and about all families." —Adrienne Miller, author of The Coast of Akron
"It's so tempting to compare Renée Rosen's debut to similar auspicious literary starts – Anna Quindlen's Object Lessons comes to mind – but that would be doing the book a disservice since Every Crooked Pot stands in a class by itself. Populated with vivid characters, at the center of which is resilient heroine Nina Goldman, this bittersweet novel will lift hearts while at the same time making readers wonder, Where has Renée Rosen been hiding all these years?" —Lauren Baratz-Logsted, author of Angel's Choice
"Told with wit, wisdom, and characters so realistically drawn that they breathe, this poignant story of angst and redemption will touch the heart of anyone who ever longed to be "normal" enough to be loved." —Sandra Kring, author of The Book of Bright Ideas
"Every Crooked Pot is a work of courage, with a dose of sassy audacity thrown in for good measure. Humiliation, sorrow, tears, humor and candor, this is a novel so full of heart and emotion, it's impossible to detach yourself from it. Renée Rosen is a rare find in today's jungle of women's fiction!" —Carrie Kabak, author of Cover the Butter
"Realistic, sharp and funny, Renée Rosen perfectly captures what it's like to be stuck on the outside longing to get in. A beautiful, poignant, and impressive debut – I didn't want it to end." —Alyson Noel, author of Laguna Cove