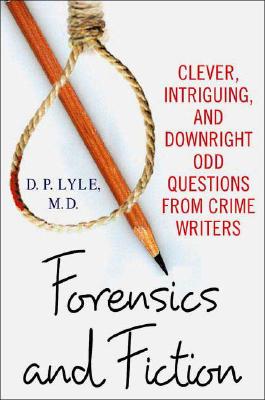 Forensics and Fiction
Clever, Intriguing, and Downright Odd Questions from Crime Writers
Hardcover

* Individual store prices may vary.
Description
How long can someone survive in a cold, damp cave without food or water? How was diphtheria treated in 1886? Can Botox kill? Can DNA be found on a knife years later? How are mummified corpses identified? How long does it take blood to clot when spilled on a tile floor? What happens in death from electrocution?

As a consultant to many novelists around the world and to the writers of such popular TV shows as Monk, Law & Order, House, and CSI: Miami, D. P. Lyle, M.D., has answered many cool, clever, and oddball questions over the years. Forensics and Fiction: Clever, Intriguing, and Downright Odd Questions from Crime Writers is a collection of the best of these questions. The answers are provided in a concise and entertaining fashion that will keep you wide awake so you can read "just one more."
Praise For Forensics and Fiction: Clever, Intriguing, and Downright Odd Questions from Crime Writers…
"Indispensable . . . Don't even think of writing a medical mystery without the wise counsel of Dr. D. P. Lyle."
- Lee Goldberg, author of the Diagnosis Murder and Monk novels

"A terrific resource for crime writers and anyone interested in forensics . . . will jump-start your imagination about all kinds of ingenious crimes, crime-solving techniques, and plot twists."
- Matt Witten, supervising producer of the Fox TV show House

"Every crime-fiction author's best friend . . . as essential to my library as my Strunk and White."
- Hallie Ephron, author of Writing and Selling Your Mystery Novel

"There's damn good reason why Dr. Doug Lyle's e-mail is in every crime writer's address book and why his reference books belong on every aspiring writer's book shelf: His advice comes from the head of a medical expert but also from the heart and imagination of a writer. Whenever I paint myself into a forensic corner, Dr. Doug is always there to rescue me."
- P. J. Parrish, author of An Unquiet Grave
Minotaur Books, 9780312365516, 320pp.
Publication Date: August 21, 2007
About the Author
D. P. Lyle, M.D., is the Macavity Award-winning and Edgar Award-nominated author of the nonfiction books "Murder and Mayhem: A Doctor Answers Medical and Forensic Questions for Mystery Writers, " a compilation of the most interesting questions he has received over the years, and "Forensics for Dummies, " an in-depth look into the world of forensic science.

Dr. Lyle is a practicing cardiologist in Orange County, California, and has worked as a story and technical consultant with many published authors and with the writers and producers of several popular television shows, including "Law & Order, CSI: Miami, Diagnosis Murder, Monk, Judging Amy, Cold Case, Peacemakers, House, Medium, "and "1-800-Missing."

Through his Web site, the Writer's Medical and Forensics Lab (www.dplylemd.com), Dr. Lyle works with writers and readers to enrich the authenticity of stories they write and read.
or
Not Currently Available for Direct Purchase