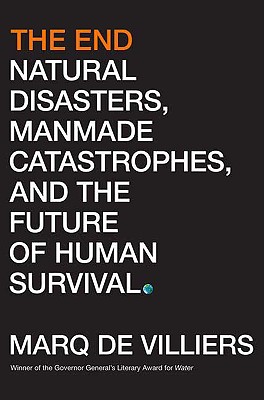 The End: Natural Disasters, Manmade Catastrophes, and the Future of Human Survival (Hardcover)
Natural Disasters, Manmade Catastrophes, and the Future of Human Survival
Thomas Dunne Books, 9780312365691, 368pp.
Publication Date: November 25, 2008
* Individual store prices may vary.
or
Not Currently Available for Direct Purchase
Description
What is the fate of the world as we know it?
Tsunamis, earthquakes, volcanoes, hurricanes, pandemics, cosmic radiation, gamma bursts from space, colliding comets, and asteroids—these things used to worry us from time to time, but now they have become the background noise of our culture. Are natural calamities indeed more probable, and more frequent, than they were? Are things getting worse? Are the boundaries between natural and human-caused calamities blurring? Are we part of the problem? If so, what can we do about it?
In The End, award-winning writer Marq de Villiers examines these questions at a time when there is an urgent need to understand the perils that confront us, to act in such a way as best we can for the inevitable disasters when they come.
We can do nothing about some natural calamities, but about others we can do a great deal. De Villiers helps us understand which is which, and lays out some provocative ideas for mitigating the damage all such calamities can inflict on us and our world.
The End is a brilliant and challenging look at what lies ahead, and at what we can do to influence our future.
About the Author
Born in South Africa, Marq de Villiers is a veteran journalist and the author of thirteen books on exploration, history, politics, and travel, including "Water: The Fate of Our Most Precious Resource "(winner of the Governor General's Literary Award for Non-fiction), "Sahara: The Life of the Great Desert, "and "Windswept: The Story of Wind and Weather. "He lives near Port Medway, Nova Scotia.""
Praise For The End: Natural Disasters, Manmade Catastrophes, and the Future of Human Survival…
Praise for Water
"Thoroughly readable . . . It will be fascinating to consult this book as the years pass." —The Globe and Mail (Toronto)
"De Villiers's important, compelling, highly readable report on the looming global water crisis sounds a wake-up call for concerned citizens, environmentalists, policymakers, and water-drinkers everywhere."—Publishers Weekly
Praise for Sahara
"A lyrical portrait of a vast, exotic land . . . Wide-ranging, engagingly written."—The Seattle Times
"This is a cool book about one of the world's hottest places."—National Geographic Adventure magazine
"A thoughtful history of, and popular guide to, the great African desert."—Kirkus Reviews
"Surprises abound in [this] informative natural history of the world's most famous desert."—The Dallas Morning News
Praise for Windswept
"Windswept serves up a little history, a fair amount of science, and many colorful stories. Mr. de Villiers . . . explains the science clearly, and he describes the working of wind, weather, and the natural world with enormous gusto."—The New York Times
"A refreshing narrative of meteorology and a different perspective on its history."—New Scientist
Veteran travel writer de Villiers (Timbuktu, 2007, etc) explores our planet's destructive tendencies, and it's a thriller.
Volcanic eruption, cosmic destruction, earthquake, tidal wave, tornado, hurricane and disease are all analyzed with academic pragmatism and occasional reassurance. However, such niceties fall short in light of the evidence he offers that we could soon face a global catastrophe that would make the December 2004 tsunami look trivial. If we're living in a relatively rare era between ice ages called an "interglacial period," which is characteristically marked by a preceding global warming, then our reckless destruction of the environment might make the next 100,000 years or so more uncomfortable, but it's hardly going to alter the inevitable. Besides, a wayward meteor or SARS might kill us first.
De Villiers is not all gloom and doom. Experts since the dawn of communication have been predicting apocalypse, he writes, but in fact disasters of extinction are unpredi
-Kirkus Reviews
Advertisement