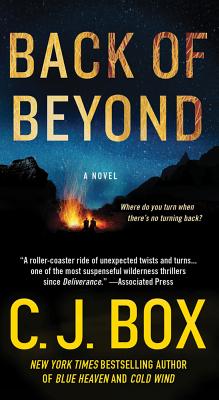 Back of Beyond (Mass Market Paperbound)
Minotaur Books, 9780312366124, 496pp.
Publication Date: June 26, 2012
Description
In bestselling author C.J. Box's "Back of Beyond," Cody Hoyt, although a brilliant cop, is an alcoholic struggling with two months of sobriety when his friend Hank Winters turns up dead in a remote mountain cabin. At first it looks like the suicide of a man who's fallen off the wagon, but Cody knows Hank better than that. As Cody digs deeper into the case, all roads lead to foul play. After years of bad behavior with his department, Cody in no position to be investigating a homicide. But he will stop at nothing to find out who murdered Hank. And why
When clues found at the scene link the murderer to an outfitter leading tourists on a multiday wilderness horseback trip in Yellowstone National Park, Cody is desperate to get on the trail and stop the killer in his tracks. There's only one catch: his own son, Justin, is among the tourists. Now, in one of the most remote places on earth, Cody must enter a deadly cat-and-mouse game with a ruthless enemy who seems to know his every move...and is hell-bent on destroying the only important thing in Cody's life he has left.
About the Author
C.J. Box is the bestselling author of Three Weeks to Say Goodbye, and more than a dozen other novels including the award-winning Joe Pickett series. Blue Heaven won the Edgar Award for Best Novel in 2009, and Box has won the Anthony Award, the Prix Calibre 38 (France), the Macavity Award, the Gumshoe Award, and the Barry Award. His first novel, Open Season, was a New York Times Notable Book and an Edgar Award and Los Angeles Times Book Prize finalist. Box's work has been translated into twenty-five languages. He lives in Wyoming.
Praise For Back of Beyond…
Praise for the novels of New York Times bestselling author
C. J. Box
BACK OF BEYOND
"May be his best yet...a roller-coaster ride of unexpected twists and turns...one of the most suspenseful wilderness thrillers since Deliverance." —Associated Press
"Once again, Box provides the complete suspense package." —Kirkus Reviews (starred review)
"A great creation." —Houston Chronicle
"Grade A...page-flying suspense with superior character portrayal...a great adventure." —Cleveland Plain Dealer
"Terrifically entertaining stuff that comes together with a bang in the end." —Booklist
"A perfect introduction to the novels of C J Box." —Petrona (UK)
"Tough, gripping...[with] atmospheric volatility." —The Australian
"Sprawling, ambitious...palpably compelling." —Publishers Weekly
"Timeless...gripping...resemble(s) an Agatha Christie closed-community whodunnit but with horses, bears, wolves, and hunting rifles." —Sunday Times (UK)
"Box...knows life and death in the backcountry like few other writers today." —Library Journal
"The type of entertainment and escapism that drives us towards crime fiction in the first place."
—Bookgeeks.co.uk
"A taut tale...that hooks you." —USA Today
"If Box isn't already on your list, put him there." —Toronto Globe and Mail
 "The best of Box's novels that I have read."—Powerline
"A brand-new stand-alone thriller which may just clinch it for [Box]." —The Daily Mail (UK)
Advertisement