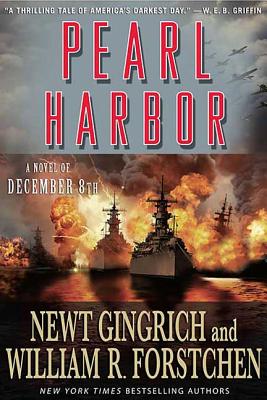 Pearl Harbor (Paperback)
A Novel of December 8th (The Pacific War Series #1)
St. Martin's Griffin, 9780312366230, 384pp.
Publication Date: April 15, 2008
Other Editions of This Title:
Digital Audiobook (5/14/2007)
Hardcover (5/15/2007)
Mass Market (3/31/2009)
Compact Disc (5/15/2007)
* Individual store prices may vary.
Description
Fresh from their series on the American Civil War, bestselling authors Newt Gingrich and William R. Forstchen now launch a new epic adventure by applying their imaginations and knowledge to the "Date of Infamy"---the attack on Pearl Harbor.
Pearl Harbor covers the full spectrum of character and events of that historic moment, from national leaders and admirals to the views of ordinary citizens caught in the chaos of war. From the chambers of the Emperor of Japan to the American White House, from the decks of aircraft carriers to the playing fields of the Japanese Naval Academy, this powerful story stretches from the nightmare slaughter of China in the 1930s to the lonely office of Commander James Watson, an American cryptographer, who suspects the impending catastrophic attack. It is a story of intrigue, double-dealing, the horrific brutality of war, and the desperate efforts by men of reason on both sides to prevent a titanic struggle that becomes inevitable.
A compelling, meticulously researched saga, Pearl Harbor is also a novel of valor about those who took party in this cataclysmic moment in world history. It inaugurates a dramatic new Pacific War series that begins with the terrifying account of the day that started it all.
About the Author
Newt Gingrich, former Speaker of the House, is the author of several bestselling books, including Valley Forge, To Try Men's Souls, Pearl Harbor and Gettysburg (all with William R. Forstchen). He is a member of the Defense Policy Board and co-chair of the UN Task Force, is the longest-serving teacher of the Joint War Fighting course for Major Generals, and served in Congress for twenty years. He is also the founder of the Center for Health Transformation.

William R. Forstchen is the author of the New York Times bestseller One Second After and We Look Like Men of War, among numerous other books in diverse subjects ranging from history to science fiction. He has co-authored several books with Newt Gingrich, including Gettysburg: A Novel of the Civil War, Pearl Harbor, Days of Infamy, To Try Men's Souls and Valley Forge. Forstchen holds a Ph.D. in History from Purdue University, with specializations in military history and the history of technology. He is currently a Faculty Fellow and Professor of History at Montreat College, near Asheville North Carolina. He is a pilot and flies an original WWII recon "warbird." He resides near Asheville with his daughter Meghan.

Albert S. Hanser contributed to To Make Men Free.
Praise For Pearl Harbor: A Novel of December 8th (The Pacific War Series #1)…
"A thrilling tale of America's darkest day." —W.E.B. Griffin
"Begins what will be a fascinating alternative history of the war in the Pacific." —The Roanoke Times
"Masterful storytelling." —William W. Butterworth IV, New York Times bestselling author of The Saboteurs
"The authors' research shines in accurate accounts of diplomatic maneuvering as well as the nuts-and-bolts of military action." —Publishers Weekly
"The authors skillfully mix historical and fictional characters in an enjoyable and thought-provoking tale." —Library Journal