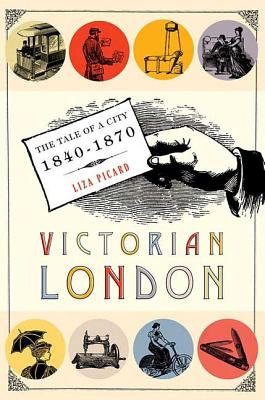 Victorian London: The Tale of a City 1840-1870 (Paperback)
The Tale of a City 1840-1870
Griffin, 9780312366599, 368pp.
Publication Date: February 20, 2007
Description
For readers who enjoy their history told with a sense of gusto, verve, and a keen eye for detail, Liza Picard brings "Victorian London" to fruitful life.
With her trademark wit and passionate interest in the quirky realities of everyday life, Liza Picard vividly recalls all the splendors and horrors of Victorian life. As suburbs expanded and roads multiplied, London was ripped apart to make way for railway lines and stations, sewers, and the world's first subway. "Deserving poor" saw the first public housing projects, and significant advances were made in medicine. Using unpublished diaries of Londoners, Picard uncovers signs of progress in London such as flushing toilets, umbrellas, letter boxes, and traffic regulations. But it was still a city of cholera outbreaks, public executions, and the workhouse, where parents could sell their children for as little as 12. Liza Picard is in top form in what is her best book yet.
About the Author
Liza Picard lives in Oxford. She is the author of the critically acclaimed Elizabeth's London, Restoration London, and Dr. Johnson's London.
Praise For Victorian London: The Tale of a City 1840-1870…
Praise for Victorian London
"Arch and conversational in tone, Picard's history is an informative treat."---Publishers Weekly
"Picard has made a career of writing about London during particular historical eras, and in her Victorian volume she retains the wry tone that makes her social histories so entertaining."---Library Journal
Praise for Elizabeth's London

"It's a marvelous book, and only Liza Picard could have written it."---Boston Globe 
"Lively guide to Elizabethan England."---Washington Post
"The detail is rich and remarkable."---Kirkus Reviews
Advertisement