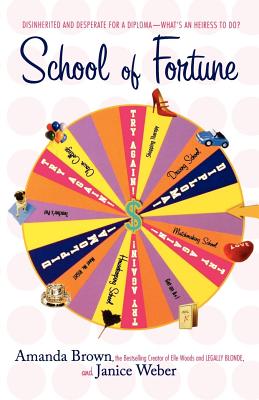 School of Fortune (Paperback)
St. Martin's Griffin, 9780312366735, 352pp.
Publication Date: June 26, 2007
* Individual store prices may vary.
Description
A fun, fresh frolic of a novel starring a spoiled but lovable Texas heiress out to reclaim her fortune
Pippa Walker's wedding was to be huge—Texas huge—complete with twelve bridesmaids under contract from Pippa's mother to stay lean and long-haired, gondolas flown in from Venice, A- and B- guest lists. But when Pippa finds out her handsome husband-to-be isn't what she thought, she bolts from her own wedding, shocking society and getting herself disinherited. The only way she can get a piece of the family fortune back is to earn a degree from a school. Any school. It's a tough assignment for a girl who dropped out of SMU after pledging Kappa Kappa Gamma and shopping at Neiman's for a year.
But Pippa is nothing if not up for a challenge. Attracting one hilarious misadventure after another, she tries to earn her sheepskin at: driving school, matchmaking school, even a circus academy. It's only when she hits rock-bottom—The Mountbatten Savoy School of Household Management—that things begin to look up. But can she really be falling in love with a…valet?
"Great, silly fun, guaranteed to be seen at a beach near you." - Kirkus Reviews
About the Author
AMANDA BROWN is the author of three novels, including Legally Blonde, which became a hit movie starting Reese Witherspoon and also a Broadway musical. She lives in Los Angeles.
JANICE WEBER is a concert pianist as well as a novelist. She lives in Massachusetts.