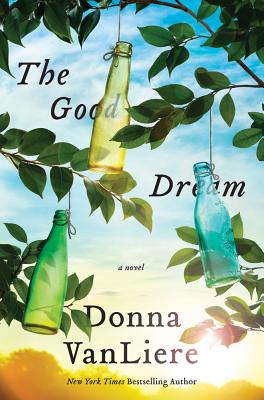 The Good Dream (Hardcover)
A Novel
St. Martin's Press, 9780312367770, 320pp.
Publication Date: July 3, 2012
Other Editions of This Title:
Digital Audiobook (7/2/2012)
Paperback (7/30/2013)
Compact Disc (7/3/2012)
Hardcover, Large Print (7/5/2012)
Pre-Recorded Audio Player (7/3/2012)
* Individual store prices may vary.
Description
In this full-length novel from the New York Times Bestselling author of The Christmas Hope series Donna VanLiere has written a beautifully rendered and poignant story about one woman's unlikely path to motherhood and the healing power of love.
Tennessee, 1950: Still single and in her early thirties, Ivorie Walker is considered an old maid; a label she takes with good humor and a grain of salt. But when her mother dies, leaving her to live alone in the house she grew up in, to work the farm she was raised to take care of, she finds herself lost in a kind of loneliness she hadn't expected. After years of rebuffing the advances of imperfect, yet eligible bachelors from her small town, Ivorie is without companionship with more love in her heart and time on her hands than she knows what to do with. But her life soon changes when a feral, dirty-faced boy who has been sneaking onto her land to steal from her garden comes into her life. Even though he runs back into the hills as quickly as he arrives, she's determined to find out who he is because something about the young boy haunts her. What would make him desperate enough to steal and eat from her garden? But what she can't imagine is what the boy faces, each day and night, in the filthy lean-to hut miles up in the hills. Who is he? How did he come to live in the hills? Where did he come from? And, more importantly, can she save him? As Ivorie steps out of her comfort zone to uncover the answers, she unleashes a firestorm in the town-a community that would rather let secrets stay that way.
This pitch perfect story of redemption and the true meaning of familial love is Donna VanLiere at her very best.
About the Author
Donna VanLiere is a New York Times and USA Today best-selling author. Her much-loved Christmas Hope series includes The Christmas Shoes and The Christmas Blessing, both of which were adapted into movies for CBS Television, The Christmas Secret, The Christmas Journey and The Christmas Hope, which was adapted into a film by Lifetime. She is also the author of The Angels of Morgan Hill and Finding Grace. VanLiere is the recipient of a Retailer's Choice Award for Fiction, a Dove Award, a Silver Angel Award, an Audie Award for best inspirational fiction, and a nominee for a Gold Medallion Book of the Year. She is a gifted speaker speaks regularly at conferences. She lives in Franklin, Tennessee, with her husband and their children.
Praise For The Good Dream: A Novel…
"The story of a woman's love, sacrifice, and bravery to save a small, wounded boy, Donna VanLiere has faithfully re-created the South of the 1950s, in both the innocence of the time and its evil. It's a beautiful story." —Kathleen Kent, bestselling author of The Heretic's Daughter
"The Good Dream is a great story of people saving each other in the unlikeliest ways. A heartwarming winner of a book." —Jenna Blum, bestselling author of The Stormchasers
"Both heartrending and redemptive, The Good Dream imagines the profound power that love holds to change a life." —Katherine Howe, bestselling author of The Physick Book of Deliverance Dane
"Donna VanLiere has created a marvelous character in Ivorie of Morgan Hill, Tennessee.  Hers is a compelling story of a young woman who must choose between her dreams and saving a boy she is told is forever damaged.  Her struggle will intrigue you, entertain you, and will make you think important thoughts.  That's about as much as we can ask a novel to do.  " —Homer Hickam, author of Rocket Boys/October Sky and The Keeper's Son
"Written with all the gumption of its Tennessee characters, The Good Dream is a great story of people saving each other in the unlikeliest ways. A heartwarming winner of a book." —Jenna Blum, New York Times bestselling author of Those Who Save Us and The Stormchasers
"Donna VanLiere has woven an intoxicating Southern gothic tale of solitary Ivorie Walker, a capable young woman who must confront the terrible secrets that lie below the placid surface of life in the 1950s Tennessee countryside. At times both heartrending and redemptive, The Good Dream imagines the profound power that love holds to change a life, while tracing the reverberations that one woman's courage can send tearing through an entire community." —Katherine Howe, New York Times bestselling author of The Physick Book of Deliverance Dane
"In The Good Dream, Donna VanLiere has created a heartwarming story of redemption and has shown the world that she's not just for Christmas anymore." —Richard Paul Evans, #1 bestselling author of The Christmas Box, Lost December, and Miles to Go
"The Good Dream snares the reader right from the start. DonnaVanLiere's pitch perfect voice captures all the country charm and mystery of a long-ago time and place with its many acts of kindness and courage, as well as its secrets." —Mary McGarry Morris, New York Times bestselling author of Songs in Ordinary Time
or
Not Currently Available for Direct Purchase