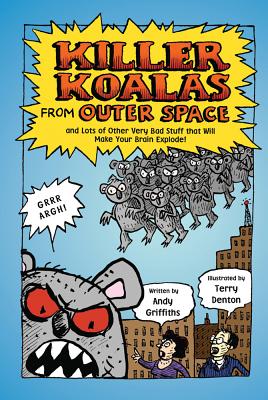 Killer Koalas from Outer Space and Lots of Other Very Bad Stuff That Will Make Your Brain Explode! (Hardcover)
Feiwel & Friends, 9780312367893, 172pp.
Publication Date: October 11, 2011
* Individual store prices may vary.
Description
Surprise, absurdity, and laugh-out-loud humor are the hallmarks of this New York Times-bestselling author, and in Killer Koalas from Outer Space, Griffiths offers up a collection of ridiculous stories featuring zombie kittens, rocket stealing ants, and of course, killer koalas from outer space.
About the Author
Andy Griffiths is the New York Times bestselling author of The Day My Butt Went Psycho!, Zombie Butts from Uranus!, and Butt Wars! The Final Conflict, as well as The Big Fat Cow That Goes Kapow and The Cat on the Mat Is Flat. In 2007, he became the first Australian author to win six children's choice awards in one year for Just Shocking! He is passionate about inspiring a love of books in his young readers, and works as an ambassador for the Indigenous Literacy Project, which provides books and literacy resources to remote indigenous communities around Australia. Andy is a big fan of Dr. Seuss and of cauliflower. He lives in Melbourne, Australia, and is Australia's most popular children's writer.Terry Denton has worked with Andy on many books, including the Just! series. He lives in Australia.
Praise For Killer Koalas from Outer Space and Lots of Other Very Bad Stuff That Will Make Your Brain Explode!…
"With a tone that veers between crass and cautionary, the nonstop absurdities and blatant hyperbole will easily find an audience with middle-graders." --Booklist "…Andy Griffiths kicks up the silliness a few notches in this collection of ridiculous stories featuring zombie kittens, rocket stealing ants, and, of course, killer koalas from outer space." --TucsonCitizen.com "…plenty of kids who will laugh their heads off…" --Publishers Weekly "The genius of this subversive little tome lies in its perfect combination of zany subject matter that will appeal to a broad spectrum of readers and a format that make it easily accessible to beginning and struggling readers." --Kirkus Reviews, starred review
or
Not Currently Available for Direct Purchase