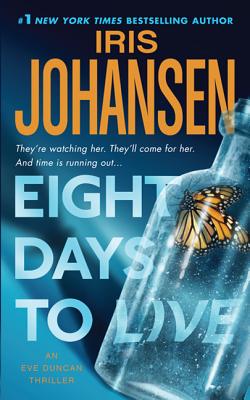 Eight Days to Live (Mass Market Paperbound)
St. Martin's Press, 9780312368142, 436pp.
Publication Date: September 21, 2010
* Individual store prices may vary.
or
Not Currently Available for Direct Purchase
Description
It all begins with a painting called "Guilt." Eve Duncan's daughter, Jane, has no idea why she painted the portrait of the chilling face that now hangs in a Paris gallery. But those who belong to a powerful cult one that dates back to the time of Christ know both the face and the significance behind it
They believe that Jane must die when the moment is right, and not an instant before she leads them to an ancient treasure whose value and power are beyond price. But for now, they target those close to Jane, killing without mercy or conscience.
From Paris to the Scottish isles to the Holy Land, Jane finds herself in a desperate race against time to unravel the mystery surrounding her painting and save her own life. Even with Eve's help, can she possibly succeed before her time is up?
About the Author
Iris Johansen is the New York Times bestselling author of Chasing the Night, Blood Game, and Eve, among others. She began writing after her children left home for college, and first achieved success in the early 1980s writing category romances. In 1991, she began writing suspense historical romance novels, and in 1996 she turned to crime fiction, with which she has had great success. She lives near Atlanta, Georgia.
Praise For Eight Days to Live…
"You'll want to keep the lights on while reading!"—Romantic Times BOOKreviews on Blood Game
 "Johansen is becoming a master of the macabre and paranormal thriller, and her latest riveting Eve Duncan tale has it all, from ghosts and secret cults to supernatural avengers." —Booklist on Blood Game
"Readers won't soon forget either the enigmatic hero or the monstrous villain. This one's chilling to the bone!"—Romantic Times BOOKreviews on Deadlock
"Johansen's knack for delivering robust action and commanding characters kicks into high gear."—Booklist on Dark Summer
"Action-packed, adrenaline-fueled…will keep [you] eagerly turning the pages."—Publishers Weekly on Quicksand
"Keeping the tension high and the pace relentless, prolific and compelling Johansen adds depth to her popular characters as she continues this suspenseful series."—Booklist on Quicksand
"Bestselling author Johansen captivates readers with her latest suspense thriller…the suspense escalates toward an explosive conclusion."—Library Journal on Pandora's Daughter
"An exhilarating thriller…suspense that will keep readers on the edge of their seats."—Booklist on Pandora's Daughter
"A fast-paced, non-stop, clever plot in which Johansen mixes political intrigue, murder, and suspense."—USA Today on The Face of Deception
 
"[A] thrill ride…Action, romance, castles, bomb plots and booby-trapped hideaway in snowbound Idaho—what more could Johansen fans want?"—Publishers Weekly on Countdown
 
"Intriguing suspense…her new tale will please both fans and new converts."—Booklist on Blind Alley
 
"Thoroughly gripping and with a number of shocking plot twists…packed all the right elements into this latest work: intriguing characters; creepy, crazy villain; a variety of exotic locations."
—New York Post on The Search
"Fans can always count on Johansen to weave consistently excellent, complex thrillers with an unusual edge."--
RT Book Reviews
 on
Eight Days to Live
(Top Pick!) "A compelling novel that brims with action, intrigue, intricate relationships and a refreshing headstrong heroine."--Bookreporter.com on
Eight Days to Live
 "Eight Days to Live is Iris Johansen at her very best."--Genre Go Round Reviews on
Eight Days to Live
Advertisement