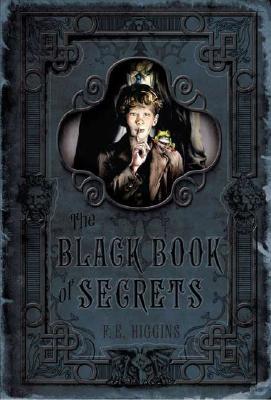 The Black Book of Secrets (Hardcover)
Feiwel & Friends, 9780312368449, 288pp.
Publication Date: October 2, 2007
* Individual store prices may vary.
or
Not Currently Available for Direct Purchase
Description
A boy arrives at a remote village in the dead of night. His name is Ludlow Fitch--and he is running from a most terrible past. What he is about to learn is that in this village is the life he has dreamed of--a safe place to live, and a job, as the assistant to a mysterious pawnbroker who trades people's deepest, darkest secrets for cash. Ludlow's job is to neatly transcribe the confessions in an ancient leather-bound tome: "The Black Book of Secrets."
Ludlow yearns to trust his mentor, who refuses to disclose any information on his past experiences or future intentions. What the pawnbroker does not know is, in a town brimming with secrets, the most troubling may be held by his new apprentice.
About the Author
F.E. Higgins is the author of "The Bone Magician" and "The Eyeball Collector." As a child, she once saw a ghostly apparition, and ever since then, she has been fascinated by the macabre. She travels the world, collecting strange artifacts and stranger stories. Born in London, F.E. Higgins now lives in a haunted house that dates back to the fifteenth century, in a small village in rural Kent.
Praise For The Black Book of Secrets…
Praise for The Black Book of Secrets:
"Wonderful. Anyone looking for the next big thing has come to the right place. Higgins has created a uniquely grim fantasy world that more than holds its own with Dickens or Peake. Her characters are brilliantly realized and the story grabs at the reader with hooked talons."—Eoin Colfer
"This polished debut from a British writer tantalizingly blends secrets and thick, evocative atmosphere . . . Higgins, framing her book as texts discovered in a hallowed wooden leg, expertly sustains the audience's curiosity, revealing just enough information to keep readers riveted. And for all the grisly details, the novel gets at important themes about self-determination and trust. Original and engrossing." —Publishers Weekly, Starred Review
"The story's vaguely Dickensian atmosphere is exquisite . . . A tantalizingly revelatory ending leaves at least one thread dangling for future volumes (which are sure to evoke more picaresque oddities and nefarious tales), making this a smart, peculiarly thrilling book that is sure to appeal to readers ready to sidestep the goodygoody Harry Potters of adventure fiction." —Booklist, Starred Review
"Higgins's debut begins with a bang—on the streets of a London as dark as in any Dickens novel—and ends in a mysterious cave, with no let-up in pacing from start to finish . . . One of Higgins's great achievements is the way she manages to convey a degree of innocence in Ludlow despite his harsh life surviving the city streets. Redemption emerges as a strong theme in the book, as she reveals the complexities of human nature, and she leaves open several mysteries (including the history behind a wooden leg and Joe's prized pet frog). Readers can only hope for many more black books filled with secrets." —Shelf Awareness
"Pre-teens who enjoy historically based fantasy . . . will find The Black Book of Secrets thoroughly rewarding."—The Washington Post
". . . will keep readers on the edge of their seats." —Scripps Howard News Service
"There can be few more nightmarish openings than that of The Black Book of Secrets . . . A beguiling mix of gothic fairy tale and Dalhesque macabre for 9-13-year-olds." —The Telegraph (UK)
"Higgins creates a fascinating novel peopled with colorful characters and imbued with clever plot twists . . . the novel's climax is both excellent and surprising." —VOYA
"Higgins's fine writing and wry tale will charm readers who are ready for the unusual . . . like the film Chocolat . . . a stranger enters a town and changes the lives there forever, all from the confines of a small shop, this time a pawnbroker's place." —KLIATT
"The resolution, as tidy a piece of plotting as can be imagined, not only collects all the plot threads but leads to the deeper revelation of who Joe is and why he plies such a curious trade. Strongly seasoned with details of nineteenth-century oddities, the story abounds with puzzles, quirks, and enticing disclosures." —The Horn Book
"While Ludlow & Co. do live in an alternate reality, there are many details about life in the late 1800s that readers of historical fiction will enjoy—especially those who like reading about the more gruesome, less well-known details, like stealing and selling teeth, grave robbers, body snatchers and Sweeney Todd." —Bookshelves of Doom
"I thought this book was outstanding. It's a horror book with lots of mystery. I would give it four stars." —Jennifer Hopkins, age 11, in the Washington Times
Advertisement