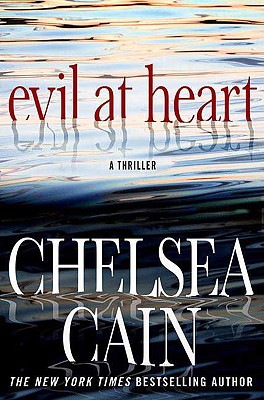 Evil at Heart
Hardcover

* Individual store prices may vary.
Other Editions of This Title:
Digital Audiobook (8/31/2009)
Paperback (8/31/2010)
Paperback (11/29/2011)
Compact Disc (9/1/2009)
Mass Market Paperback (10/4/2011)
Description
Chelsea Cain's novels featuring Portland detective Archie Sheridan and serial killer Gretchen Lowell have captivated fans through two nail-biting entries, Heartsick and Sweetheart, both of them multiweek bestsellers in The New York Times, USA Today, and Publishers Weekly.

Gretchen Lowell is still on the loose. These days, she's more of a cause célèbre than a feared killer, thanks to sensationalist news coverage that has made her a star. Her face graces magazine covers weekly and there have been sightings of her around the world. Most shocking of all, Portland Herald reporter Susan Ward has uncovered a bizarre kind of fan club, which celebrates the number of days she's been free.

Archie Sheridan hunted her for a decade, and after his last ploy to catch her went spectacularly wrong, remains hospitalized months later. When they last spoke, they entered a détente of sorts---Archie agreed not to kill himself if she agreed not to kill anyone else. But when a new body is found accompanied by Gretchen's trademark heart, all bets are off and Archie is forced back into action. Has the Beauty Killer returned to her gruesome ways, or has the cult surrounding her created a whole new evil?

Chelsea Cain continues to deliver heart-stopping thrills and chills in the latest entry in this dynamic bestselling series.
Praise For Evil at Heart…
Praise for Chelsea Cain

Sweetheart

"Cain's debut Heartsick had even the most jaded thriller fans sleeping with the lights on. She tells an equally frightening story in Sweetheart. . . . This is one of the best series in the contemporary thriller genre. Only downside: waiting for Cain's next novel."
---USA Today

"Cain skillfully recruits us as moral caretakers as Archie struggles to overcome his sexual Stockholm Syndrome. . . . She invents Gretchen in wanton, wide-screen glory. . . . The novel is sensual and engulfing."
---The New York Times Book Review

"The forces that conspired to make Cain's Heartsick a bestselling page-turner last year have reunited in its sequel. . . . With her preternatural grasp of pacing and ability to create vivid characters with astonishing economy, Cain expertly drives her narrative."
---Los Angeles Times

"We've been down Hannibal Lecter Avenue many times, and these two books shouldn't work . . . but they do. Chalk it up to excellent writing and Cain's ferocious sense of humor. The Portland (Ore.) setting is refreshing too."
---Stephen King, Entertainment Weekly

Heartsick

"Heartsick is worth all the hype . . . brilliant."
---New York Post

"In her dynamite first thriller, Cain introduces one of the most seductive and original psychopaths since Hannibal Lecter."
---Entertainment Weekly

"Steamy and perverse."
---The New York Times
Minotaur Books, 9780312368487, 320pp.
Publication Date: September 1, 2009
About the Author
Chelsea Cain is the "New York Times" bestselling author of "The Night Season," "Sweetheart" and "Heartsick." Both "Heartsick" and "Sweetheart" were listed in Stephen King's Top Ten Books of the Year in "Entertainment Weekly." Chelsea lived the first few years of her life on an Iowa commune, then grew up in Bellingham, WA, where the infamous Green River killer was "the boogieman" of her youth. The true story of the Green River killer's capture was the inspiration for the story of Gretchen and Archie. Cain lives in Portland with her husband and daughter.
or
Not Currently Available for Direct Purchase